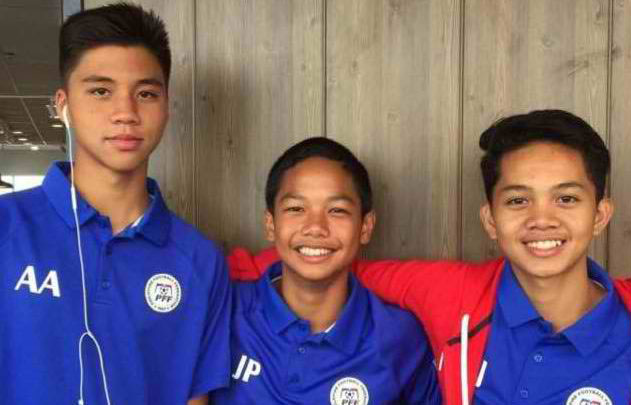 YOUNG BOOTERS. Amir Andre Amaicurut of Ateneo de Davao High School (left) with his National U16 teamates Jacob Padernal, and Nicolai San Jose are among the young footballers who would benefit from planned San Miguel Corp. program. (Contributed photo)
by Jack Biantan
SAN Miguel Corp., the biggest conglomerate in the country is finally investing into youth football again and that is thanks to the Davao Aguilas.
According to a source in the Philippine Football Federation (PFF) San Miguel is investing in the youth development of the beautiful game particularly here in Mindanao and has tasked the Davao Aguilas to help them organized an all Mindanao tournament for young footballers starting in January next year.
With this development, Aguilas owner Jeff Cheng has reportedly scrapped his planned Aguilas Youth All Mindanao tournament which is supposed to kickoff this November, to give way to the San Miguel All Mindanao Youth tournament.
The project according to my source will be the biggest investment of SMB to the beautiful game so far. It would cost the company at least P20 million, and will involve practically all the Football Associations all over Mindanao.
The tournament will be for players who are 16-20-years-old and will be spread to the four clusters of Mindanao. They are Northern Mindanao cluster which comprises of Cagayan de Oro Misamis Oriental FA, Iligan Lanao del Norte FA, Misamis Occidental Ozamiz FA, Bukidnon FA.
Western Mindanao-Zamboanga del Norte Dipolog FA, Zamboanga del Sur Pagadian FA, Zamboanga FA. Eastern Mindanao-Butuan Agusan del Norte FA, Compostela Valley FA, Agusan del Sur FA. Southern Mindanao-Mati Davao Oriental FA, North Cotabato FA, FA of South Cotabato, Sultan Kudarat FA, Davao del Norte FA, and Davao FA.
The teams in each cluster will play each other and then the top teams will advance to the All-Mindanao week long tournament.
This reminds me of the Coke G-For-Goal U16 tournament which used to be organized and financed by the SMB subsidiary Coca Cola Philippines.
The Coke Go-For-Goal folded up in the early 2000's after more than 20 years of developing our young footballers.
The coming SMC tournament is a blessing to the football community of Mindanao. If this tournament would be properly organized and succeed, we can discover lots of local football talents that can definitely put the Philippines to the higher level of the football universe. (l.biantan@gmail.com)