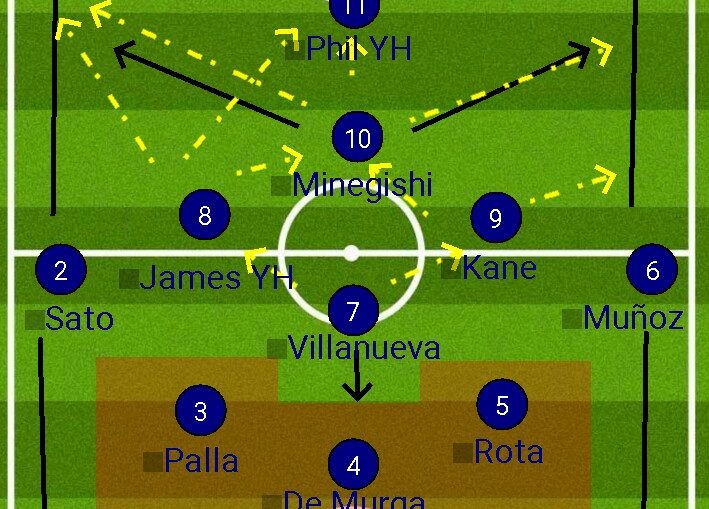 To read Part 1, click here
Now that we have covered how to defend against Yemen, it is time to turn our attention on how to attack Yemen's defence.
As I am writing this piece, I have learned that Manny Ott will be missing the game and 6 weeks of football due to an MCL injury. That is a big blow for the Azkals because they will miss his creativity. Nonetheless, the 3-5-1-1 setup I proposed the last time is not based on individual talent, but rather on team solidity and movement. Assuming no one will replace Manny in the squad, they still have enough personnel to pull it off.
With that said, the Azkals have an overloaded attacking crew. Yet, you will not notice it in the last game, where they resorted to two set pieces to score. They huffed and puffed in possession yet were unable to create the sufficient opportunities to score.
The attack of the Azkals needs more rhythmic movement to pull off a possession game. Most of their attacks in Panaad were from the wings, since the compact Yemeni defence forced them. In order to get around this, a roaming playmaker is needed in the squad rather than direct wingers. This is where I propose that the Azkals start Hikaru Minegishi "in the hole".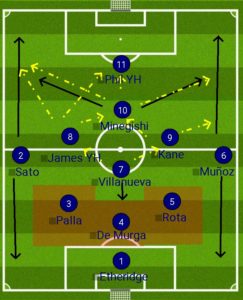 Minegishi was already deployed as a free roaming creator in the last game. He pulled Yemeni defenders out of their positions with his movement, freeing up Phil and Misagh Bahadoran to receive passing opportunities. Pika must be utilized in this free roaming role again from the start to disturb the defensive positioning of Yemen, allowing Phil some space to shoot.
As was said last time, the wingbacks Sato and Muñoz will provide immense effort in both attack and defence. On the attacking front, they are tasked to provide width in order to stretch Yemen's defence along with Pika's movement. We know Sato is a long range shooter and Muñoz has some good crossing skills. These will be handy in pulling the opposite fullbacks and wingers, forcing them to choose the inside threat or their arsenal out wide.
Manny Ott's absence means that James Younghusband will be the sole creator in central midfield. This will mean that he will be particularly targeted by the Yemeni defence. In order to deflect this possibility, James' new partner in midfield must be an able passer, could efficiently move the ball around, and create opportunities for either Pika or the wingbacks to push the ball up to the penalty box. The new boy Sean Patrick Kane is the best available midfielder to fill this role. His last few displays for JPV showed he thrives as a support central midfielder, which is what we are looking for.
The beauty of the current squad is that it allows for multiple scenario preparations according to where game is going in the 2nd half, especially during a nervy moment when there is a need to chase the game.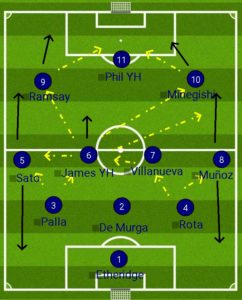 When more width and better crossing is needed in the lineup, just introduce Iain Ramsay for Kane and switch it to a conventional 3-4-3. James and Villanueva could then create a creator-destroyer dynamic in midfield and have Ramsay and Minegishi, now a conventional wide forward, could provide accurate wide delivery into the box.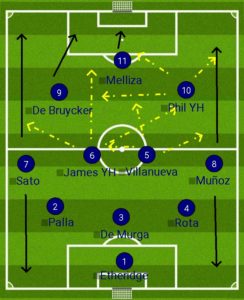 If more speed in the central areas is needed, especially when we are defending a slim lead and attack by counters, Jhan Melliza and Dylan De Bruycker could replace Kane and Minegishi. Phil and James would be the main playmakers in this instance, feeding the onrushing wingbacks, De Bruycker and Melliza in counterattacks. In addition, Mike Ott or Curt Dizon could also inject the team more pace and aggressiveness in attack if needed.
October 10 is a potential turning point for Filipino football. In the face of missing key men and a tough opponent, The Azkals need to go for broke and assure Asian Cup qualification in 2019.