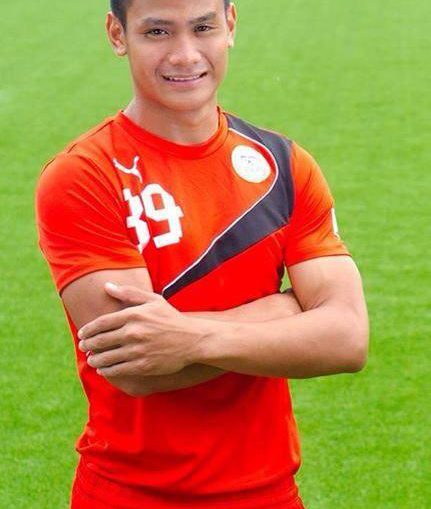 YOUNG AZKAL: Watch out for Amani Aguinaldo as he plays for Global against South China of HongKong in the AFC Cup Wednesday night (Feb. 25, 2015)
By Jack Biantan
LONDON — YOUNG defender Amani Aguinaldo is one reason enough to watch Global FC play against South China FC in the Asian Football Confederation (AFC) Cup Group G opener.
Game time is 8 p.m. (Feb. 25, 2015) Rizal Memorial stadium in Manila.
The 20-year-old Davaoeno has matured so quick from the time of his international debut for the Azkals two years ago against Indonesia in August 14, 2013.
There is no question the Azkals have found a solid replacement to the legendary defender Aly Borromeo in the middle of the defence.
Borromeo has made the central defence area his home for a long time with the Azkals until he suffered a career ending injury while playing for Kaya in the United Football League (UFL) few year back.
Since his debut against Indonesia, there has been no looking back for the Aguinaldo. It has even been surprising why his original club Loyola Meralco Sparks released him to Global. Maybe the Loyola management were sleeping during that time or they just found Aguinaldo too raw.
Loyola's loss is Global's gain as their gamble on him paid off. He has now become a world class defender and has blossomed to become No.1 defender of the Philippines today.
Working with coach Thomas Dooley for the Azkals has done wonders for Aguinaldo. The two time World Cup veteran was a long time centre defender for the US team. He has taught Aguinaldo lots of defending tactics and discipline.
Aside from playing for the Azkals and Global, Aguinaldo is also busy with his education. He is now on his second year of his Sports Science degree at the University of the Philippines. He played for Ateneo de Davao during his younger years.
Regular Pinoyfootball.com contributor Rey Raymund Torrecampo in his blog Life So Mundane has only good words for the rising star of Philippine football.
"Perhaps what I personally appreciate most about Amani other than his youth and his obvious future in the game is that he represents a way through for not only his contemporaries but also the countless youngsters around the country who picked the game up after Azkal mania took off. Whilst once youngsters like him would be getting ready to hang up their boots after graduation from college, now there is good reason to keep on playing. In fact, Amani represents the future in football that many of my own as well as succeeding generations would have opted for had we had the chance but just never did.''
Armani will definitely play a key role in front of goalkeeper Patrick Dayto for Global against South China FC. Luckily both players are familiar with each other as they both played in the entire AFC Challenge Cup championship in the Maldives last year and in the Suzuki Cup last December.
South China is a many time Hong Kong champion and it will be a tough team to beat in this competition.
However, Global owner Dan Palami is confident that his team will deliver a fighting performance and he is hoping for another 'Magical' night for Philippine football he said in the Global FC website.
'We use this game as a challenge for us, we have to make sure that Global represents the Philippines well in the AFC Cup,'' he added.
Global will parade new players like Ray Johnson, his youngers brother Michael, Masaki Yanagawa, Renato Gonzalez, Rolf Schlettwein, Sam Bonney, Paolo Salenga plus the old reliables, Misagh Bahadoran, Mark Hartman, Izzo El-Habbib, Daisule Sato and Yu Hoshibe. Newly promoted from the Global youth players, John Kanayama, Mark Winhoffer and Marco Casambre might also see action. (l.biantan@gmail.com)