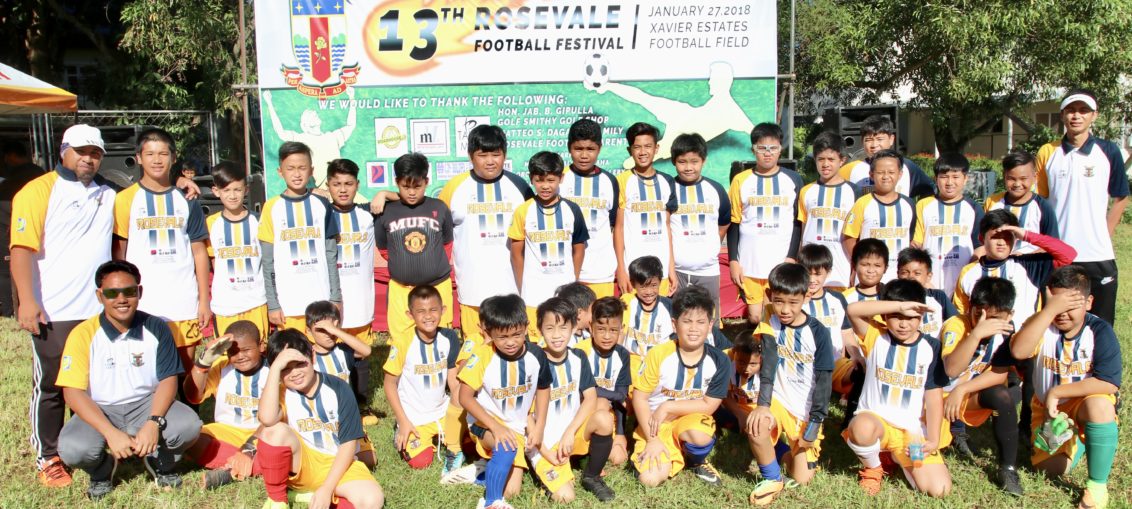 NEW UNIFORMS. Rosevale School's grade school players proudly wear their brand new uniforms.
THE Rosevale School Cup Football Festival after 13 years has grown by leaps and bounds and has become an annual gathering football talents from all over Mindanao.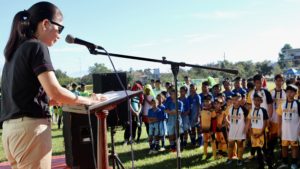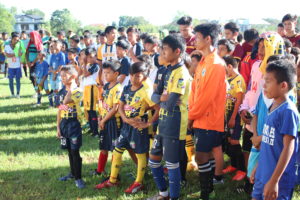 OPENING SPEECH. Rosevale School Executive Directress Emma Rose Quimbo inspires the participants.
Some 108 teams from as far as Davao City, Zamboanga del Sur, Pagadian, Ozamis City, Iligan City and many more came to the school's Xavier Estates pitch to spend one day under the heat of the blazing sun to play the beautiful game.
"We welcome all of you and thank you for coming to play football with us,'' said Rosevale School Executive Directress Emma Rose Quimbo during her opening address in front of the youthful participants.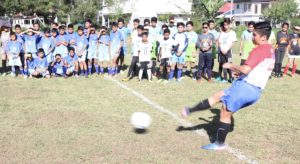 CEREMONIAL KICKOFF. Lyle Dy shows off his penalty skills.
Organizers expect to attract more participants next year as they hope participants from Luzon and Visayas to join. Two years ago, Don Bosco Technology Center from Cebu City joined the tournament. This year, the school did not register as the students are having their family day celebration.
Without DBTC, a number of teams from Davao have come like the Crocs FC, Rizal Memorial College, Hyena FC, and Nikkie Parents FC. They participated in the Boys U15, 17, U19, U13, Mixed U11, Mixed U9, and Girls U18 categories.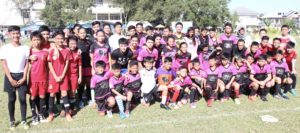 FROM ILIGAN CITY. The Iligan Medical Center College is a regular participant in various Cagayan de Oro City tournaments.
Rosevale School provided them with free accommodations using the school's classrooms as sleeping quarters.
Quimbo also thanked the parents for supporting their kids for playing the sport of football and the Rosevale teachers for their great help in making the tournament a success.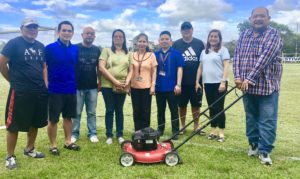 DONATION. Football parents are behind the success of the Rosevale School football program.
The parents are the key to the success in making Rosevale School a powerhouse in the sport of football not only in Cagayan de Oro City but in Region X.
Rosevale despite of having only less than 500 students has dominated football competitions locally for many years now. It will represent Region X in the coming Palarong Pambansa in Vigan.
The Rosevale School parents have given their all out support for the school's football program. They have even supported and recruited football scholars to beef up their elementary and high school varsity teams. This week the parents donated a brand new lawn mower just in time for the tournament.
As or press time, competition is still on going. The winners and the special awardees will be announced later. They will receive trophies and medals. (l.biantan@gmail.com)