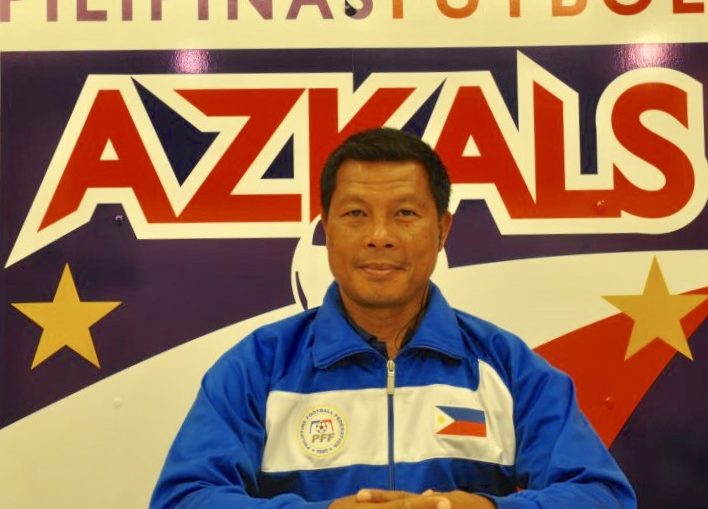 TOMOSITO GLEN RAMOS IS A PLUS FACTOR IN GLOBAL CEBU COACHING STAFF
I HAVE known Thomasito Glen Ramos since time in memorial and we have worked many times in the past.
But the most memorable event that I have worked with him was when we brought a very talented Don Bosco Boys Home squad to represent Cebu to the National Coke Go-For-Goal National final in Manila in 1996.
I was the Coke Go-For-Goal Cebu coordinator and at the same time also working as a sportswriter for Sun*Star Cebu. I was the team manager of that young bunch. Now Region 7 Department of Education sports coordinator Francis Ramirez, was his assistant.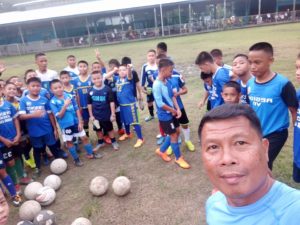 RAMOS WITH HIS YOUNG PLAYERS FROM DON BOSCO CEBU
I was young and very fit. He was also young and fitter.
Now, 21 years past Glen has remained the same. He still looks young and still very fit. Me, I lost much of my hair and never mind.
On the pitch Glen was very serious. The kids were always on their toes. Any mistake ment an endless scolding. But off the pitch he was kind and fatherly.
The best thing about him is that he is a winner. He does not like losing. I remember in our game against Ateneo de Manila in the elimination round, goalkeeper Alex Buanghug was distracted by pretty girls who passed by the sideline that he forgot he was playing in a tournament.
Ateneo capitalized on that distraction and scored the first goal of the match. Glen saw everything that happened and was furious. He kicked the bench and the bench flew with the bench warmers. He then lambasted Alex.
During the halftime he came to Alex and continued to lambast him but later on comforted him.
Alex, now a policeman in Cebu City but still continues to play football recreationally, cried and apologized to coach Glen. He then resumed playing and held on to his post and thwarted every Ateneo attempt. We scored three goals in the second half to beat Ateneo.
That incident stuck on Alex brain. He then was spectacular throughout the tournament . He saved two penalty shots of West Negros College of Bacolod in the final penalty shootout to earn him the Best Goalkeeper Award and the team pocketing championship trophy.
Without Glen giving Alex the scolding, we could have not won that tournament. Without Glen we could have not recorded the most memorable time in Cebu's youth football history.
The Coke Go-For-Goal was the first major title Glen has won as a youth football coach. After that, he won every youth football titles there was. He won several Palarong Pambansa titles for Don Bosco Technology Center, the CAAA title for Southwestern University, the Cesafi title for University of Cebu and many more trophies which I could not remember.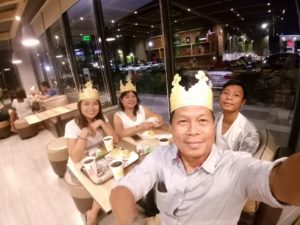 RAMOS WITH HIS WIFE SHIELA, DAUGHTER TARA AND SON TOMTOM
His recent appointment as part of the Cebu-Global coaching staff is not surprising. For me he is the best youth coach or probably the best coach in Cebu right now. He is also a winner.
This will be the first time he is working in a professional club. Although he continues to work for Don Bosco Technology Center and University of Cebu, his hiring as part to the Global-Cebu coaching staff is a brilliant move for team owner Alvin Carranza.
Glen brings along with him the entire Don Bosco community in Cebu and the talents he has developed. Global-Cebu can also use DBTC as its academy and University of Cebu team and other Cebu schools as breeding ground for future stars.
Glen tasted his first professional football coaching the other day in the Philippine Football League (PFL) pre-season at the Philippine Football Federation (PFF) training center in Carmona, Cavite.
It tasted like heaven as Global-Cebu demolished Malaysian team, Sabah 5-1. Alvin Carranza's signing of new young players has paid off. The Cebuanos have an exciting team to look forward to and their best coach, Glen Ramos, is part of it. (l.biantan@gmail.com)