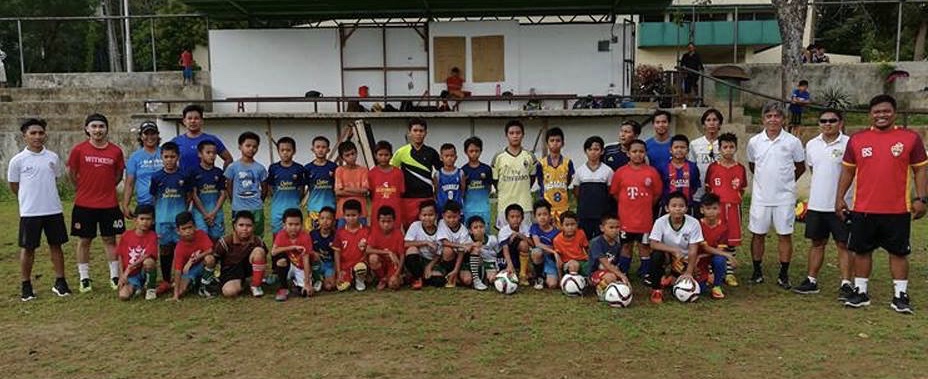 PAGADIAN CITY TALENTS. Young players and local coaches during the "Percy Initiative" talent ID program hosted by the Lumad Pagadian FC. (Contributed photo) 
THE talent ID initiative of coach Percy Guarin for Mindanao has gone full swing as he has gone to see the development of young footballers at the Provincial Government Center in Dao, Pagadian City recently for the Zamboanga del Sur-Sibugay Regional Football Association (ZAMSURSRFA).
Some 32 young players born 2006 and above showed up for the skills and agility tests which Guarin conducted himself with the help of ZAMSURSRFA officials led by president Bayani Jose Abad and local coaches TD Brillantes Sanonia, GDO Adrieanne Layuge, Jojo Rodriguez, Ariel Bajolo, Aries Sudiang, Christian Consolacion, Chilly Mongaya and Pluto Labang.
"There are lots of good players in Pagadian. The only problem there is that they do not have enough competitions,'' said Guarin.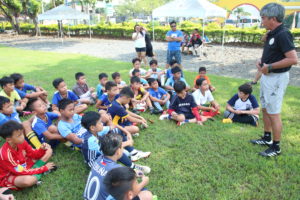 COACH PERCY. Gives instructions to the Cagayan de Oro young footballers during his talent ID here last week. (photo by Jack Biantan) 
Guarin's initiative started in CdO last Jan. 12 where more than 30 players showed up including three Palaro bound players Sam Salingay of Rosevale School, Jrand Hortilano of St. Mary's School, and Ivan Sambaan of Pagatpat Elementary School.
The Pagadian leg of the talent ID initiative was hosted by the parents and members of the Lumad Pagadian FC.
Guarin will bring his initiative to Tubod, Lanao del Norte on Feb. 27, Oroqueta City on Feb. 28 and tentatively in Zamboanga City on Feb. 21.
Guarin, an AFC B licensed coach and a former member of the national football team during the late 80's and early 90's is working for his AFC A license. He has created this initiative to help the PFF identify the talents who could possible play for the different national teams as early as this summer.
PFF Grassroots in-charge and Ceres FC owner Ricky Yanson has tasked Guarin to look for talents all over the country but initially he is starting here in Mindanao where he is based.
Here is the list of players who showed up in Pagadian City, Zamboanga del Sur.: Heron Winters, Semine Jeuls Suaner, Jotham Banagaso, Perm P. Shang, Klyn Chang, Christian Siaboc, Luoiege Bunggol, Remien Eniquela, Rubin Gusalo, Roselien Tamini, Jomar Capangpangan, Wellan Kharem F. Bazar, Jason Keith Cabrera, Rad Cliff Jhun L. Sapinan, Charles Homprey Esarcito, Cyrel Jay A. Maramara, Senrey B Becada, Felman B. Solmiron, Jean Claude L. Mongaya, Cristoff Marak T. Abanil, Harry John P. Villaflor, Johnrey C. Frias, Mark Klient O. Bendanillo, Lyrus G.Petalino, Cyrus Petalino, Graycochea John Emmanuel, Cristian Kenneth Zorilla, Jon Dale Silao, Eric Joshua J. Silao, Jereymaiah Nocolie G. Anina, Nino A. Mongaya II, Nino A. Mongaya III. (l.biantan@gmail.com)