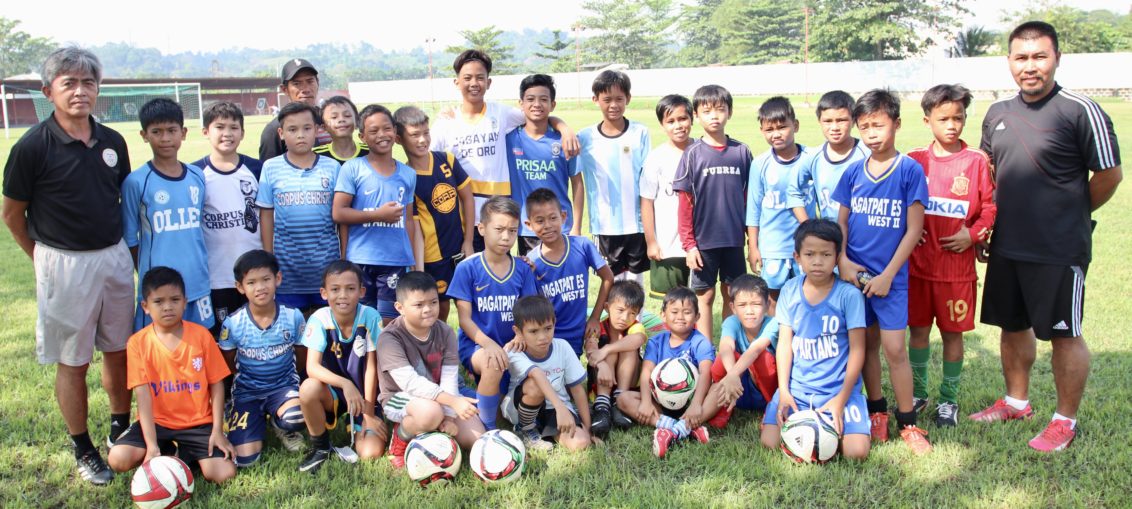 TALENT ID. Kids from CdO, Bukidnon, and Ginggoog join the talent identification program conducted here by local FA presidet coach Percy Guarin (standing left) and coach Jeralp Ronquillo (standing right). (Sun*Star photo by Jack Biantan) 
CAGAYAN DE ORO CITY — Camiguin Misamis Oriental Regional Football Association (CMORFA) president Percy Guarin recently launched his self initiated and Philippine Football Federation (PFF) sanctioned talent identification program for the young players in Mindanao.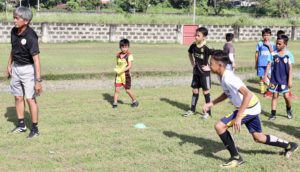 SPRINT. Sam Saliring of Rosevale School waits for signal from coach Percy before he dashes off for a sprint. (Photo by Jack Biantan)
Some 26 young footballers born 2006 and above led by Palaro bound players Sam Salingay of Rosevale School, Jrand Hortilano of St. Mary's School, and Ivan Sambaan of Pagatpat Elementary School trooped to the Westridge Sportspark as early as 7 a.m. yesterday to show off their skills to Guarin and some other coaches picked to spearhead this project.
"We plan to cover the entire island of Mindanao by going to all the 17 local football associations to look for players who have talents and identify them to become members of the future national youth teams,'' Guarin said.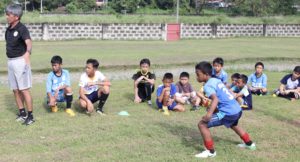 SMALL BUT TERRIBLE. Ivan Sambaan of Pagatpat Elementary School may be small but he is as quick as a fox and as strong as a horse. (Sun*Star photo by Jack Biantan)
Guarin, an AFC B licensed coach led the different skills and stamina tests of the players with AFC C licensed coach Jeralp Ronquillo. Guarin, a former member of the national football team during the late 80's and early 90's is working for his AFC A license.
He said that as a technical person of the PFF for Mindanao, he has created this initiative to help the PFF identify the talents who could possible play for the different national teams as early as this summer.
PFF Grassroots in-charge and Ceres FC owner Ricky Yanson has tasked Guarin to look for talents all over the country but initially he is starting here in Mindanao where he is based. "The aim is at least to have more than 3000 players in different categories to fill the pool of players,'' Guarin added.
He will hold another series of tests here next month to give chance to other players who failed to show up.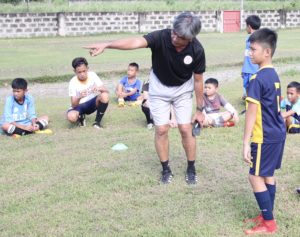 LISTEN BOY. Jrand Hortilano gets final instructions from coach Percy. (photo by Jack Biantan)
Here is the list of players who showed up during the first tests.
Jrand Hortilano-Higala FC, Sam Salingay-Rosevale School, Brad Aguyman Ginggoog, JC Levie Ramasola-Ginggoog, Phil Ramirez-Higala FC, Earl Catamora-Ginggoog, Barachiel Araña-Oles, William Amores III-Oles, Sam Delvic Caperal-Oles, Miles Brian Halasan-Oles, Niño Facturanan-Oles, Santini Medalla-Alpha Omega School, Ralph Dionson Pagapat Elem. School, Frankie Diongson-Pagatpat Elem. School, Ian Dado-Pagapat Elm. School, Frances Saranza Pagatpat Elem. School, Clint Olarita-Pagatpat Elem. School, Julius Iglesias-Pagatpat Elem. School, Roy Cabañas-Pagatpat Elem. School, John Camba-Pagapat Elem. School, Ivan Sambaan-Pagatpat Elem. School, Niño Yap-Corpus Christi School, Jefferson Sombero-Monte Carlo FC, Earnest Sobremisana-Corpus Christi School, Don Ebuña-Corpus Christi School, John Decente-Pagapat Elem. School. (l.biantan@gmail.com)