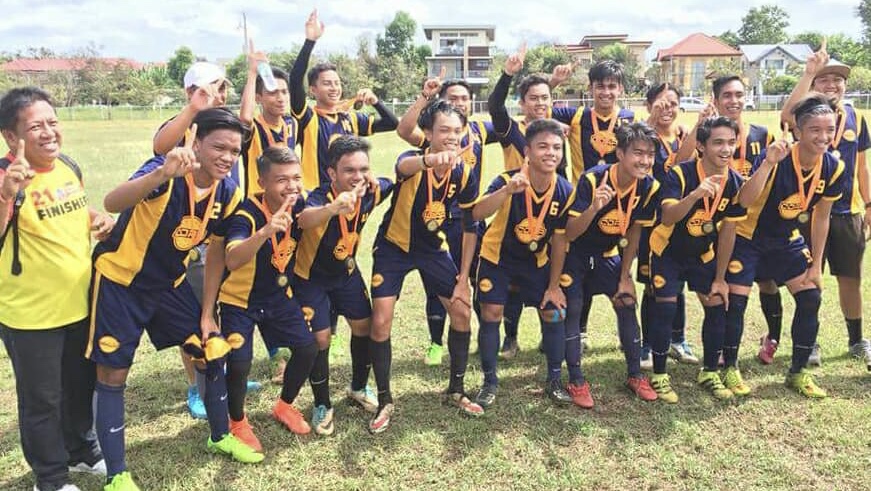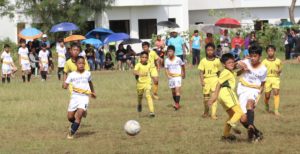 'SUPER SAM' SALINGAY BREAKS OFF FROM A VALENCIA CITY DEFENDER. (photo by Jack Biantan)
CAGAYAN de Oro Athletic Association (COAA) secondary and elementary football teams whipped separate rivals to win the gold medals in the Northern Mindanao Athletic Association (NMRAA) football competitions at the Rosevale School field Uptown.
The Oro boys of coach Webbie Racines captured the gold in the secondary division when it nipped Misamis Occidental, 2-0, while the young lads of coach Mario Sumampong outlasted Valencia City, also 2-0, to pocket the elementary division title.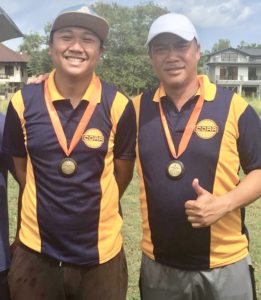 FATHER AND SON TANDEM. Maue Racines and his father Webbie Racines lead the Corpus Christi led COAA secondary team to the NMRAA football gold.(Contributed photo) 
The Racines boys made up mostly of players from Corpus Christi School Uptown, opened the scoring early after Jon Subesa scored off a header from a free kick by ace defender Kenneth Guion.
Carl Factoranan then cemented their win with an insurance goal, his second in the tournament, to insure their place to the Palarong Pambansa in Vigan, Ilocos Sur, in the summer of next year. Valencia City captured the bronze medal when they nipped Bukidnon Province, 2-0.
The Oro young booters of coach Mario Sumampong, made up mostly of players from Rosevale School, relied on the firepower of the Rosevale kids Aaron "The Bulldozer" Magadan, and "Super" Sam Salingay to crush the visiting Valencia City kids, 2-0.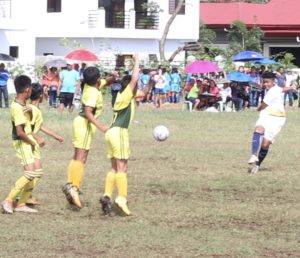 FREE KICK SPECIALIST. Aaron 'The Bulldozer' Magadan (right) tries to score from against Valencia City. (Foto by Jack Biantan)
Magadan, a recruit from Bukidnon, fired a booming free kick from 25 meters to open the scoring for the Oro boys early in the first half.
Salingay another recruit this time from Ginggoog City scored from point blank in the second half after getting a cross pass from Vinson "The Silent Assassin" Manubag to secure their fifth straight win in the tournament and the golden finish. Ginggoog won the bronze with a 2-1 come from behind win over Misamis Oriental.
The twin victory also capped the sweep of the Oro booters of all the football tournaments. The Girls Futsal team of coach Dhon Lazo also won the Girls Futsal gold.
Other members of the Oro secondary boys football team are Juan Miguel Arcadio, Germaine Averaia, Gio Joseph Cahiles, Khalid Katiil, Peter James Celdran, Carl Facturanan, James Go, Miguel Hojas, Thomas Marfori, Emilio Rubio, Gregory Tacandong, Daniel Uy, Dustin Uy, and Lexin Yuson. Assistant coach Maue Racines.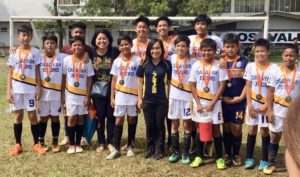 GOLDEN BOYS. The elementary boys football team share their medals with the teachers of the Rosevale School. (Contributed photo) 
The other members of the Oro elementary football team are Jared Tan, Jrand Hortilano, James Allado, Jeff Arvin Cascara, Kyle Chaves, andy Lugod, Iverson Sambaan, Kinsey Drew Yañes, McDo Acoon, John Quinito, Carlo Bongocan, Rawinquie Gementiza. Assistant coaches Dennis Bongocan, and Rowenn Clemeña. (l.biantan@gmail.com)