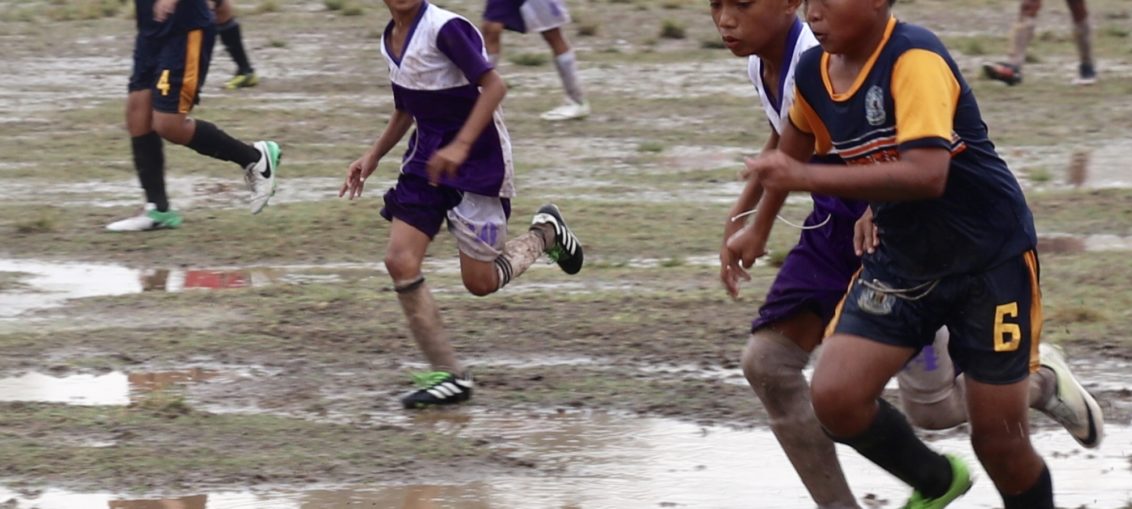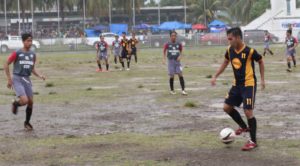 RUGGED PITCH. CdO secondary team midfielder Carl Facturanan (right) prepares to attack a defender of El Salvador City in their NMRAA secondary division match at the Pelaez Sports Complex while above photo shows CdO's striker Vinson 'The Silent Assassin' Manubag trying to evade not only his defender but also the countless of mud puddles. (Photos by Jack Biantan)
THE Cagayan de Oro City high school and elementary booters got so much help from the mud puddles of the dangerous Paleaz Sports Complex pitch and relied on their superior skills to thrash separate rivals in the ongoing Northern Mindanao Regional Athletic Association (NMRAA) football competition.
The Corpus Christi School bannered secondary team were held by the gritty El Salvador City side and the moonlike surface on the left side of the pitch scoreless in the first half, but turned the table on their favor in the second half to thrash the El Salvadoreans, 7-0.
What added to the woes of the CdO Secondary team in the first half, was the downpour that filled the holes with water. It was very difficult for coach Webbie Racines' players to execute their offensive plays as the defenders of El Salvador booters of coach Dagdagan looked formidable.
The second half was a different story as both teams changed side and the difficult side of the pitch belonged to the CdO boys this time. They then did not waste time and stepped on the gas to score seven un-answered goals including two from their subs.
Greg Tacandong, Miguel Hojas, PJ Celdran, scored one goal each while Carl Facturanan booted in two. Subs Khalid Katiil and Juan Miguel Arcadio added one goal each to cement their victory.
Completing the CdO team are Germaine Averia, Gio Cahiles, James Go, Kenneth Guion, Thomas Marfori, Emelio Rubio, Jon Subesa, Daniel Uy, Dustin Uy, and Lexin Yuson.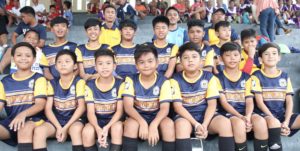 CDO ELEMENTARY TEAM. They all look innocent but they are good and heavily favored to win the NMRAA elemantary boys football title. (Photo by Jack Biantan)
The CdO elementary team of coach Mario Sumampong in contrast was dominant at the start when they have the bad side of the pitch to defend them. The boys who are from Rosevale School, St. Mary's School, and Corpus Christi School scored four goals in the first half and added another one in the second half to whip Iligan City, 5-0.
Ace striker Sam Salingay of Rosevale School once again came up charging scoring two early goals in the 3rd and 4th minutes while the 'Silent Assassin' Vinson Manubag also of Rosevale School scored one in the 7th minute to put the CdO kids ahead by three goals early.
An own goal by an Iligan City defender after a deflection of a Kinsey Drew Yañez strike then put CdO beyond reach leading by four goals at the half. Sweeper Aaron Magadan then sealed their win with a long rage free kick that caught the Iligan City goalkeeper off guard.
Other members of the CdO Elementary team are Jared Tan, Jrand Hortilano, James Allado, Jeff Irvin Cascara, Kyle Chaves, Andy Lugod, Iverson Samboan, McDo Acoon, John Quinito, Carlo Bongocan, and Rawinque Gementiza. Assistant coaches are Dennis Bongocan and Rowenn Clemeña.
In the other matches in the secondary category, Malaybalay nipped Tangub City 1-0, Misamis Occidental downed Oroquieta City, 1-0, and Valencia City won over Misamis Oriental, 2-1. In the elementary category, Gingoog City defeated Lanao del Norte, 3-0, and Misamis Oriental defeated Bukidnon, 1-0. Competition will resume at 6 a.m. today. (l.biantan@gmail.com)