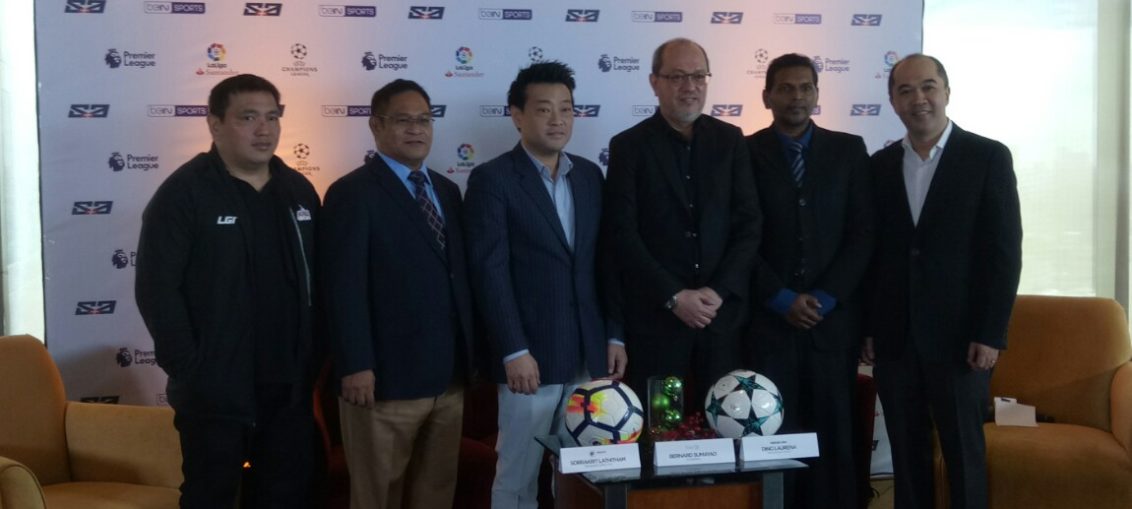 In the presence of local football movers, shakers and fans, ABS-CBN announced its partnership with Triple CH Holdings to air live English Premier League, Spanish La Liga and UEFA Champions League games on its free TV S+A channel starting in December.
ABS-CBN Integrated Sports head Dino Laurena said that this deal boosts their sports portfolio, as well as advocating sports development in the country. He emphasized that their commitment to bring the best sporting events would hopefully inspire Filipinos to play the game, via the inspiration of the world's best players, biggest clubs, and most exciting leagues.
The Hongkong based Triple CH is headed by its Filipino chairman Bernard Sumayao. A 15-year veteran of the Thai football broadcast industry, Mr. Sumayao revealed that this is the first of many projects that the two groups will enter in support of local football. Mr. Sumayao added that he hopes to be in touch with the local fan clubs of PL and La Liga teams in order to organize events such as streaming parties and other events that will raise the profile of the beautiful game to the masses.
Mr. Sumayao, as he witnessed the impact of football in the Thai society, also hopes to give back and help uplift the Filipino football talent from grassroots to Azkals level through inspiration and perspiration. He revealed that Thai-owned PL club Leicester City, along with some other PL clubs, has an interest in setting up an academy in the country to scout, discover, train and promote Pinoy footballers to the world stage.
In the presence of PFF Sec. Gen. Ed Gastanes, PFL CEO Lazarus Xavier and Azkals Team Manager Dan Palami, the two allied parties also expressed support for the local football leagues and players.Addressing concerns of fans of the local leagues, Mr. Laurena expressed hope for a future partnership with the key players of the local scene in order to bring more Pinoy football content to their broadcast. On the other hand, Mr. Sumayao also said that he envisions the future PL, La Liga and UCL broadcasts would have a distinct Filipino sound, adding that they also have the rights for Tagalog broadcasts of the big leagues for future development in terms of commentary and analysis to help spread the game in the country.
Mr. Sorrakit Lathitham, managing director of Demeter Corporation, was also present in the conference. As Triple CH's investment partner, Mr. Lathitham expressed full support to the project, adding that the Filipino football market has the potential to be at par with the Thai market in terms of engagement and support. Mr. Lathitham was instrumental during Chang Beer's sponsorship of Everton FC and the Thai League.