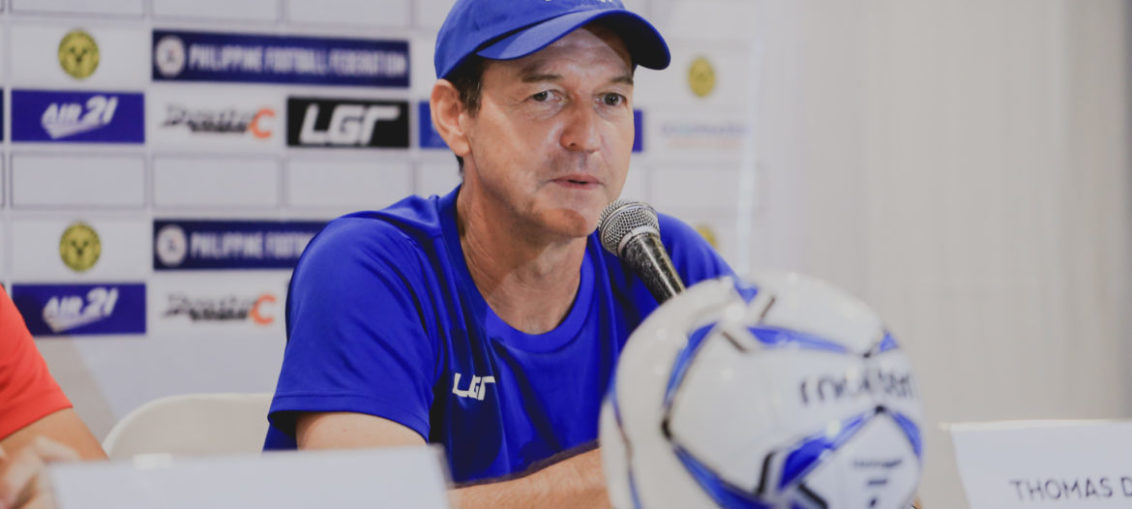 The Philippine national football team enter the crucial November 14 clash with Nepal with a mix of old reliables and a new breed of Azkals.
Headlining the new Azkals are Joshua Dutosme and Paolo Salenga, who seemed to have impressed coach Thomas Dooley with some recent solid displays for their clubs in the PFL. Dutosme in particular will certainly be challenged to bring playmaking the squad's midfield that has now lost his club teammate Manny Ott to injury.
Despite this, injuries are still handicapping the Azkals. Amani Aguinaldo's continued absence would mean another crucial game with Dennis Villanueva and Sean Patrick Kane as central defenders. Another injury victim, Stephan Palla, is replaced by a returning Marwin Angeles.
Manny Ott aside, the midfield and attack are still manned by the usual people. The returning Misagh Bahadoran replaces the injured Jhan Melliza to complement Phil Younghusband in attack. Paul Mulders,James Younghusband, Iain Ramsay, and Hikaru Minegishi would still be the main source of creativity in the side. Also, Fitch Arboleda has been added back to the squad to provide even more goalscoring punch.
A win in the Himalayas against Nepal would surely send the Azkals to the 2019 Asian Cup.
The Azkals squad in full:
Goalkeepers
Neil Etheridge (Cardiff City [Wales])
Patrick Deyto (Global Cebu)
Nick O'Donnell (Davao Aguilas)
Defenders
Sean Patrick Kane (JPV Marikina)
Carli De Murga (Ceres Negros)
Daisuke Sato (AC Horsens [Denmark])
Junior Muñoz (Ceres Negros)
Dennis Villanueva (Global Cebu)
Simone Rota (Davao Aguilas)
Midfielders
Fitch Arboleda (Stallion Laguna)
James Younghusband (Davao Aguilas)
Kevin Ingreso (Ceres Negros)
Hikaru Minegishi (Global Cebu)
Joshua Dutosme (Ceres Negros)
Paolo Salenga (Global Cebu)
Marwin Angeles (Kaya FC Makati)
Curt Dizon (Meralco Manila)
Iain Ramsay (Ceres Negros)
Paul Mulders (Global Cebu)
Forwards
Mike Ott (Angthong FC [Thailand])
Phil Younghusband (Davao Aguilas)
Misagh Bahadoran (Global Cebu)
Dylan De Bruycker (Davao Aguilas)