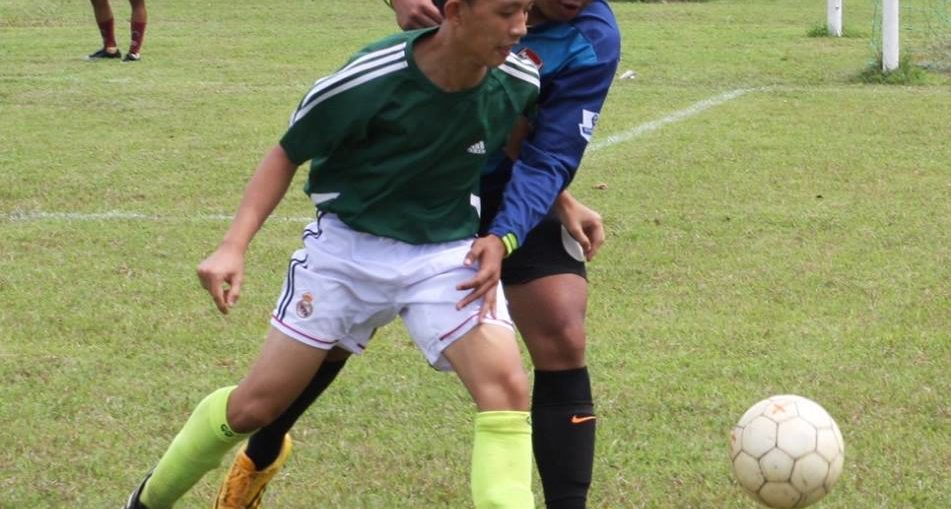 LONG WAIT OVER. Kenneth Ilajas of Lumbia Raptors FC has been called up by the National University in Manila to play for them for the UAAP football season next year. (photo by Jack Biantan)
by Jack Biantan
KENNETH Ilajas' dream to make it big as a football player is starting to be realized after the SM Group of Companies owned National University has asked him to play for them in the second semester in preparation for the UAAP football tournament next year.
The 18-year-old midfielder/striker has been recruited by NU head coach Mari Aberasturi since last summer when he showed up for the tryouts of the Philippine national U-19 team.
He did not make the National U-19 team but was asked to stay put and wait for the call up for the NU football team. After five months of waiting, Ilajas has finally received the best phone call of his life this week, when Aberasturi asked him to report to their Mendiola campus in Manila not later than Oct. 20 to arrange for his enrollment for the next semester.
The NU college and high school football teams are currently leading in the Ang Liga football tournament now ongoing at the Chelsea Blue pitch in Makati.
The college team is on top of the 10-team tournament with 17 points with five wins, two draws and one loss and scoring a total of 23 goals.
"The earlier for him to come the better. We might use him in the Ang Liga depending on his adjustment with our system,'' Aberasturi said.
Alajas is the current captain of the Lumbia Raptors FC football team and is also the coach of the Lumbia National High School Futsal team that will compete in the Cagayan de Oro division meet Girls Futsal event next year.
He is an all around player who play striker, midfielder and even defender but his most comfortable position is central defender.
Ilajas is the third son of scrap sellers Eliezar and Eva Ilajas of Sitio Red Island in the mountain barangay of Lumbia, Cagayan de Oro City.
He started playing football rather late at age 13. However, he is a fast learner and after only five years of training and learning to play the beautiful game, he has blossomed to be the heart and soul of the Raptors. He is also emerging coach as he passed the National Youth Coaching Certificate Course (NYCC) held here last year.
"I am excited for this opportunity to bring my talent to Manila. I am ready. I have been training hard for many months now,'' he said.
He dreams of playing professional football after college. But as of the moment he is still pondering of only two things, what course would he take at NU and what does the big city of Manila looks like. (l.biantan@gmail.com)