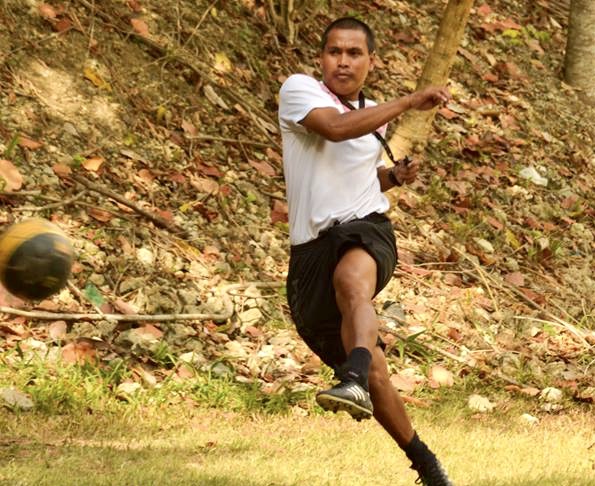 FORMER AZKAL. Now top coach Oliver Bingbing Colina will lead the Cebu team.
By Jack Biantan
MORE than 20 teams in three categories including a very strong team from Cebu City are the early entires to the Sabado Gang 10th Anniversary Festival set on Oct. 21 at the Westridge Sports Park in Barangay Carmen here in Cagayan de Oro City.
According to organizer Percival Batar, team Zero Percent from Cebu City are among the early entries in the Men's 35-Above division along with Firewolves FC teams of Pagadian, Sabado Gang, Go Hermie, Marawi FC, Iligan FC, Sorposa Cowboys, Magis FC, and Oliveros FC.
In the Mixed 10 and Boys 12 categories, teams joining are Rosevale School, Xavier University Grade School, West City Central School, Iligan FC, Initao FC, Motecarlo FC, Oroqueta, and Pagadian Firewolves.
Batar said that they are still accepting entries. Interested teams may call him at at 09065969606. Entry fee for the men's 35-Above is P2,000 per team while for the Mixed 10 and Boys 12 P1,000.
Meanwhile, Cebu's team Zero Percent is composed of former college varsity players from various teams in Cebu City led by former national team player Oliver Bingbing Colina. The team also has long time Cebu residents Japanese Hayato Ayabe, Mitsuo Tsunakiri and Koreans Youngtak Kim, Larry Chew and Kirak Lee.
Completing their line-up are former University of San Carlos Golden booters players Yance Menchavez, Raymund Cordova, and Jan Michael Abellana.
The champion team in the Men's 35 Above will win P10,000, second placer P 3,000 and third P2,000. Trophies and medals are also at stake for the winners. (l.biantan)