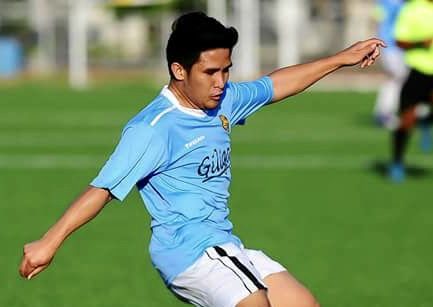 MIGHTY MOUSE. Jhan Melliza of Laguna Stallions FC is the current Filipino leading scorer in the Philippines Football League (PFL). He will hopefully get his first international cap on Oct. 10 when the Azkals clash with Yemen in Doha, Qatar. (Contributed photo)
By Leonides S. Biantan
WITHOUT the old reliables Rob Gier, Guani Guirado and Amani Aguinaldo manning the back line, the Philippine Azkals will go up against Yemen on Oct. 10 with a big hole in the middle that has allowed six goals since the 2019 Asian Football Confederation (AFC) Asian Cup qualification third round started in March this year.
The away match against Yemen will be held at the Saoud Bin Abdulrahman Stadium in Doha, Qatar as Yemen is still ravaged by a civil war.
The pillars of the Azkals defense for many years, Gier and Guirado have retired and have been missed. Aguinaldo, the youngster who has been solid at the back has injured a knee and there is a big question mark on when is he coming back.
Carlos Demurga of Ceres Negros FC, Stephen Palla Wolfsberger AC, Dennis Villanueva of Global Cebu FC, and Jim Junior Munoz of Global Cebu FC surrendered two goals against Yemen in their first encounter at the Panaad stadium in Bacolod last Sept. 4.
The were out ran, and out maneuvered by the Yemeni defender Mudir Al-Radael, and striker Abdilwasea Al Matari before the Younghusband brothers Phil and James scored one goal each to salvage a point for the Azkals.
The October 10 match will also see the return of left defender and spark plug Daisuke Sato of AC Horsens FC from suspension. His return will be a great boost for the Azkals ailing defense. But what really make fans excited is the call up of Philippines Football League (PFL) leading local scorer Jesus Joquin Melliza. The former Far Eastern University striker has already scored 13 goals, just two goals shy of top scorer Ghanian Jordan Mintah of Kaya FC.
He will be a big boost up front as the Azkals will be missing Misagh Bahodaran who will be sidelined after breaking his clavicle bone in a match with Global Cebu FC in the PFL.
Also recalled to add more firepower up front is the young Manila Meralco striker Curt Dizon. Dizon, who was raised by his Filipino parents Cris and Joy Dizon in London, is already in the history books of the PFL having scored the first goal of the league. He scored in the 9th minute of the first ever match of the PFL for Meralco against Stallion Laguna FC in Binan, Laguna last May 6.
Adding more interest for the Filipino fans is the call up of Filipino German Harry Foll who plays midfield for 3rd division German Club Hansa Rostock. He was raised in Germany by his Filipino mother and German father.
Hansa Rostock is based on the city of of Rostock, Mecklenburg-Vorpommern in the Eastern part of Germany. It used to be one of the most successful club in the old East Germany and made some appearances in the Budesliga. They have been on a steady decline and they have been playing in the 3rd division for the fifth consecutive year now.
AZKALS line-up for Oct. 1o vs Yemen
Dylan DE BRUYCKER – Davao Aguilas FC winger/striker, Carlos DE MURGA – Ceres Negros FC RB/CB, Dominic DEL ROSARIO – Global Cebu FC LB/LM, Patrick DEYTO – Global Cebu FC GK, Curt DIZON – FC Meralco Manila LW/STR, Neil ETHERIDGE – Cardiff City FC GK, Harry FÖLL – FC Hansa Rostock RM/CM, Kevin INGRESO – Ceres Negros FC CM/DM, Sean Patrick KANE – JPV Marikina FC RB RB, Jesus Joaquin MELLIZA – Stallion Laguna FC STR, Hikaru MINEGISHI – Global Cebu FC RW LW, Paul MULDERS – Global Cebu FC CM, Jim Junior MUÑOZ – Ceres Negros FC RB, Nicholas O'DONNELL – Davao Aguilas FC GK, Manuel OTT – Ceres Negros FC CM, Mike Rigoberto OTT – Angthong United CM ST, Stephan PALLA – Wolfsberger AC LB, Iain RAMSAY – Ceres Negros FC LW, Simone ROTA – Davao Aguilas FC RB, Daisuke SATO – AC Horsens LB, Dennis VILLANUEVA – Global Cebu FC DM CB, James YOUNGHUSBAND – Davao Aguilas FC RW CM, Phil YOUNGHUSBAND – Davao Aguilas FC LW ST, Head coach Thomas Dooley will be assisted by coach Kurt Kowarz. (l.biantan@gmail.com)