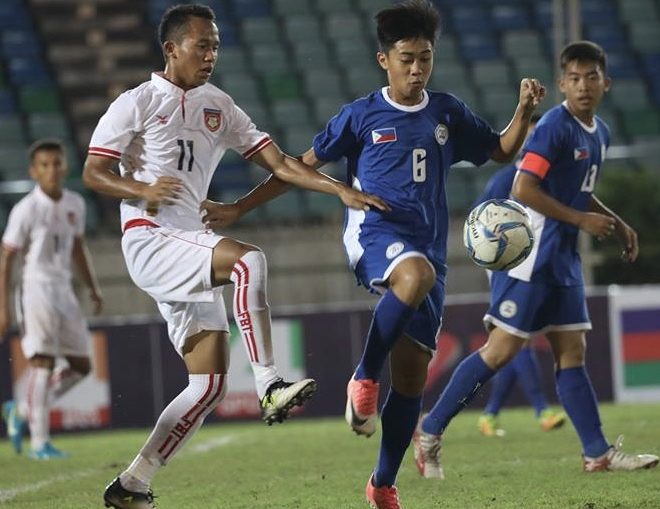 BOYS U16. Our boys got another beating in the AFC Boys U16 tournament in Myanmar. Here they are in action against the host. (Contributed)
by Jack Biantan
OUR national youth football program got another punch in the mid section when our national boys U16 team suffered a wipe out in the Asian Football Confederation (AFC) 2018 U16 Championship elimination in Myanmar.
The young boys of coach Roxy Dorlas did not score a single goal in group H and bowed to Korea 0-8 in their first match, then 0-2 against China and then 0-5 against the host team Myanmar.
Before the start of the tournament I already predicted in my previous column that this team, just like other youth teams that were sent to the different AFC battles this year, would not do better.
Am turning to be a prophet of doom? Not really. I just based my predictions from real facts not the alternative facts. And the fact is that the system that the Philippine Football Federation (PFF) implements in its youth program is wrong.
From the selection of coaches, trainers, to training and everything is completely wrong. How do I know? Easy, just check the results.
In fairness to coach Rox, he just inherited this team from the former coaches who were sacked. (I know the reason of the sacking but that is a different and controversial story.)
As early as of today the PFF should evaluate their youth program. Stop the tryout now, train for two weeks, fly to the competition, got beaten black and blue, come home and do it again next year system. This system will not work and it never worked.
This is not rocket science and we do not need rocket scientist here. It is simple logic. Prepare early.
Of course it is easier said than done. That is why all the stakeholders of Philippine football should sit down and create a decent program that would work. Why spend money on a program that has not been working since time in memorial? (l.biantan@gmail.com)