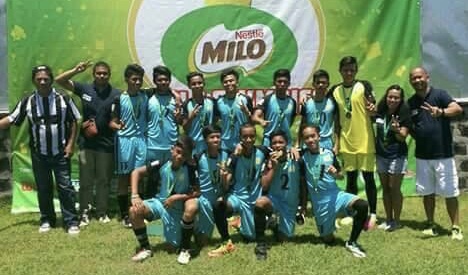 CHAMPIONS. Holy Cross Academy of Camp Philips, Manolo Fortich Bukidnon wins the Secondary Boys football title in Milo Little Olympics.
By Jack Biantan
ROSEVALE School of Cagayan de Oro City and Holy Cross High School of Manolo Fortich, Bukidnon captured the Elementary and Secondary football titles in the Milo Little Olympics Mindanao leg at the Westridge Sports Park in Brgy. Carmen.
Rosevale School leaned on solid defending of Aaron Magadan to turn back rival Corpus School in the penalty shootout 4-2, after a 1-1 draw during the regulation of the 7-Aside two day competition organized by the makers of Milo Energy Drink, Nestle Inc.
The Rosevale boys of coach Mario Sumampong earlier turned back Our Lady of Lourdes Elementary School (OLLES) of Camp Philips 4-3, in the semis to arrange a showdown with Corpus. Corpus squeezed a 1-0 win over Bukidnon Faith Academy in the semis to advance to the championship. Bukidnon Faith won over OLLES in the battle for third.
Rosevale School elementary boys team was led by tournament best player Aaron Magadan. Completing the cast for Rosevale are Sam Salingay, Carlo Bongocan, Vince Manubag, Jeff Arvin Cascara, M. Domodo Acoon, Kyle Chaves, Rawinque Gementiza, Andy Armand Lugod, Jaren Tan, and John Quinito. The coaching staff are Mario Sumampong, Rowen Clemena and Dennis Bongocan. In the secondary division, Holy Cross nipped Corpus School 2-1 in the championship to capture the title. Tournament MVP Dale Rojenn Anoya scored the go ahead goal for Holy Cross while Louie Philip Divinagracia added the other goal.
Holy Cross advanced to the final after edging Rosevale School 1-0 in the semis. Corpus advanced after nipping Looc National High School 2-1 in the semis. The Rosevale School boys placed third when they downed Looc National High School in a penalty shootout battle for third.
Members of the Holy Cross team are Dale Rojenn Anoya, John Antonette Betanio, Louie Philip Divinagracia, Alfred Angelo Lagat, Charles Andrei Lobitana, Miles Jeniel Socias, Bryan Kent Palangpangan, Danyel John Gonzales, Vince Louie Milar, Xymon Roy Bulawin, Jared Joshua Capangpangan, Fitzgerald Rubio. Michael Marola (head coach), Martin Laurel (technical consultant), Jennilyn Arcenal (team manager). (l.biantan@gmail.com)