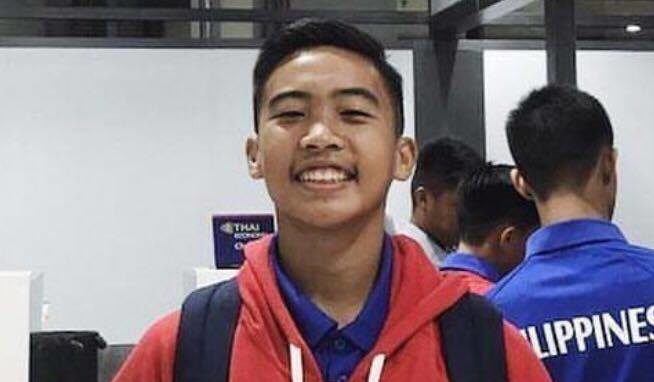 LONE VISAYAN.Luis Joaquin Buyco of Don Bosco Technology Center in Cebu City is surprisingly the lone footballer from the Visayas who made the National U16 team.
by Jack Biantan
THE Philippine Boys U-16 team is competing in the 2018 AFC U-16 Championship qualification tournament in Myanmar which started Monday. They lost their first match against South Korea 0-9, and then to China 0-2 and will clash with host Myanmar Friday.
The Philippine team, under new coach and former Azkal Roxy Dorlas, is in Group H with powerhouse teams China, South Korea and host Myanmar. They will clashed with South Korea yesterday, then China on Wednesday and Myanmar on Friday.
A total of 16 teams among the 45 teams joining in the elimination tournaments all over Asia including host Malaysia will advance to the 2018 tournament.
Sad so say, this team is not expected to win a single game against the three teams in their group as South Korea, China and Myanmar have very good youth programs. The young Filipino boys are very unlucky also in their draw but luck is always on the side of the team which has better preparations.
The three teams always have long term preparations for these kind of tournament.
In contrast, the Philippines is sending again a team which has been assembled hastily. That is what ails the Philippine Youth football program.
The PFF does not have a long term program that starts with players who are as young as 12-years-old.
What it does when there is a tournament, is it announces trials and invite everyone to show up and then form a team. Then they train for several weeks and got beaten black and blue in a tournament, then they go home. The following year they do the same thing. That is very wrong.
In fairness to the PFF, it also has to face problems with schools who refuse to allow their players to the national teams. Last year, the National U19 team was two days before they flew to an Asian tournament but a prominent footballing school in Manila refused to grant permission to their players to join the team. That proved to be a disaster to the team.
There is however, a very bright light ahead in the very dark tunnel that awaits the Philippine Youth National Football teams.
Davao Aquilas team owner Jeff Cheng has taken over as the sponsor of the teams including the national women's team.
Cheng should sit down with all the people in charge of the national youth teams and form a system that would get positive results and avoid another humiliating performances. (l.biantan@gmail.com)