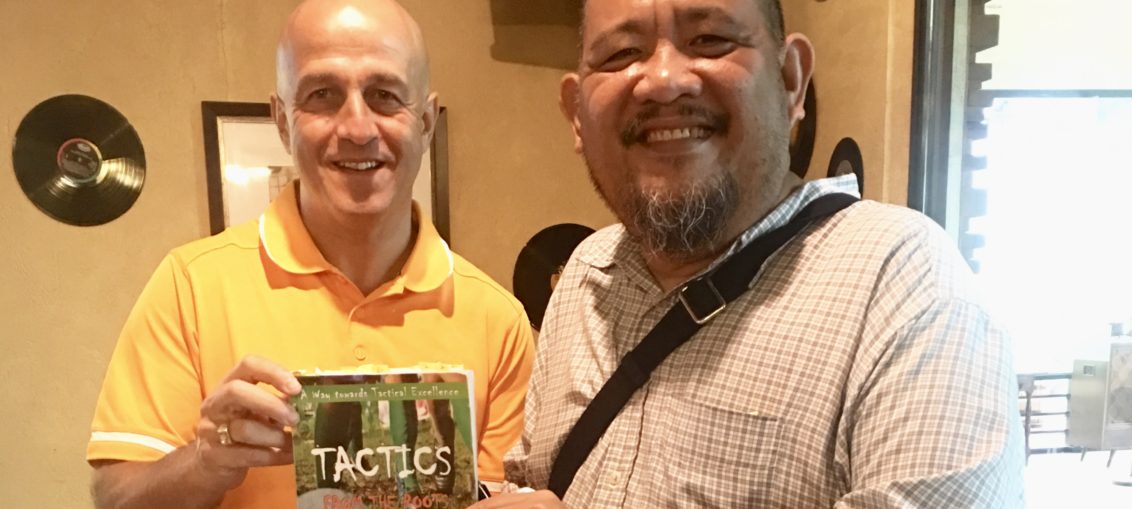 URUGUAYAN COACH. Maor Rozen with Jack Biantan of Pinoyfootball.com launches his book Tactics From the Grassroots recently in Cagayan de Oro City.
THE fledging national youth football program of the Philippine Football Federation needs a long term approach in order to be successful, according to UEFA coach and book author Maor Rozen.
Rozen was here in Cagayan de Oro City yesterday to launch his book 'Tactics From The Roots' in front of coaches from Northern Mindanao at the Country Village Hotel in Bgry. Carmen.
The book is a project of the Carlos C. Cojuangco Foundation which was founded by the former Negros Occidental Football Association (NOFA) president Charlie C. Cojuangco.
He cited the example of the Indonesian FA which brought 24 of their best U15 players to join a tournament in Uruguay few years ago to gain experience. "They went to Uruguay to learn and to be better footballers. They have long term program,'' he said.
The bulk of that team which trained and competed in Uruguay represented Indonesia in the recently concluded Asean Football Federation (AFF) U18 Championship in Myanmar.
He also said that the PFF needs quality and experienced coaches to handle our youth teams. "Look at Spain, they are very successful because they have very good and experience coaches in their youth teams.''
The Spanish youth teams are the feeders of the Spanish National teams.
Contrary, the Philippine youth teams are always assembled hastily months or even sometimes weeks before any tournament. We also have very unexperienced coaches handling the different teams.
"The country has two very competent and experienced coaches, Aris Caslib and Marlon Maro. They should be handling the youth teams,'' he added.
Caslib and Maro are indeed among the very few experienced and competent coaches in the country today but they are unfortunately not available to coach the youth teams.
Caslib, who used to be the Technical Director of the PFF is currently the coach of the Manila-Meralco FC, in the Philippines Football League (PFL). He is also an assistant to coach Tomas Dooley with the Philippine Azkals.
Maro on the other hand was the coach of the Philippine U23 team which competed in the Southeast Asian Games in Kuala Lumpur last month. They won two matches to break the long time drought of wins for the Philippines in the SEAGames men's football.
Coach Rozen is also aware of the problems of the PFF with the schools who are hesitant or some of them refuse to allow their players to join the national teams for various tournaments abroad.
''It is good to cooperate with the schools and even with the Department of Education but it is always difficult,'' he said.
A native of Uruguay, Rozen is a UEFA pro license coach and had extensive experience coaching various national teams, clubs all over the world since he began as a professional coach at age 33.
In the Philippines used to coach Kaya FC in the United Football League and the Philippine U19 team when his benefactor Charlie O. Cojuangco was still the president of the Negros Occidental FA. Here is the link of his coaching and educational background. https://es.linkedin.com/in/maor-rozen-9b537040 (l.biantan@gmail.com)