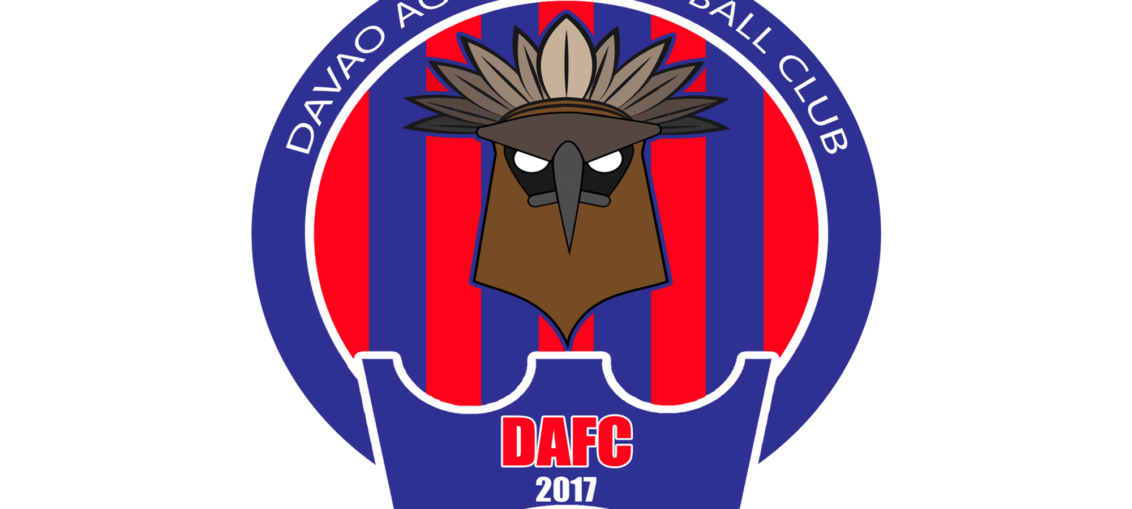 Let us go straight to the point. Splashing cash on big game players and not winning afterwards is a big black eye for a team. The Lakers (Nash and Howard) and Nets (Garnett and Pierce) did it in the NBA in recent times with disastrous results, while Real Madrid's Galacticos 1.0 were criticized for not winning enough. It is surely a punch in their ego's gut that the Davao Aguilas are experiencing the same condition after acquiring the Younghusbands and a boatload of other Azkals to complement their exciting young core.
With rumors that their manager Gary Philips is getting the sack, what should Davao do tactically to salvage their season?
Before the Transfers…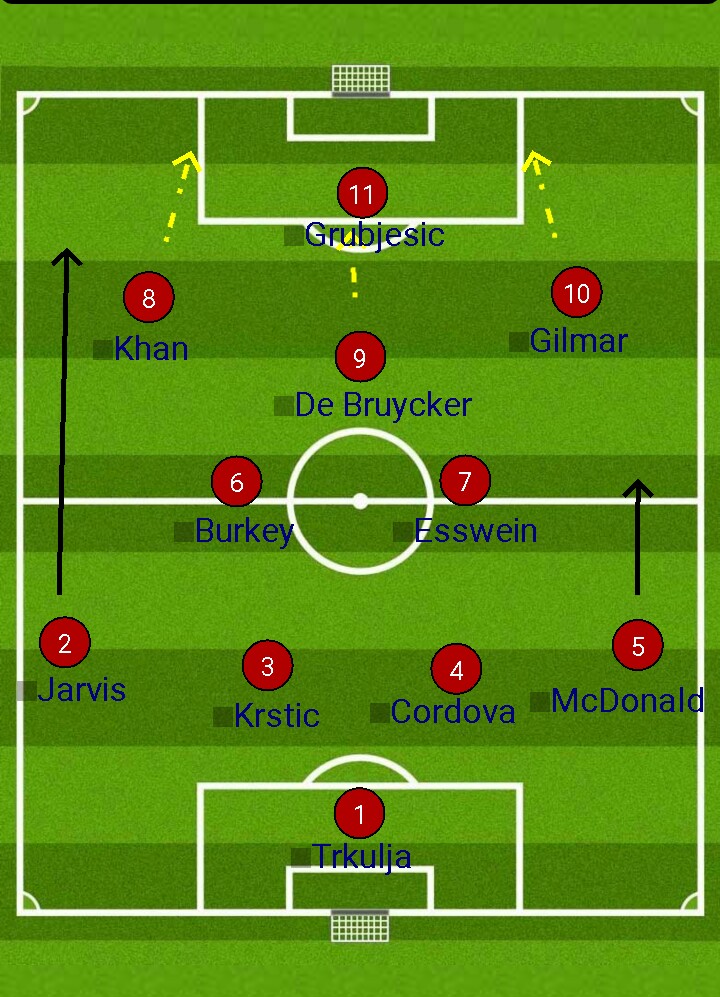 Despite a winless record, The Aguilas did have an exciting brand of play based on playmaking and speed. Omar Khan, Dylan De Bruycker, and Gilmar (despite his selfish flaws), had speed and enough creativity that Nikola Grubjesic could not finish unfortunately. What they lacked was defensive solidity in middle and at the back. Jordan Jarvis also supplied enough pace from the fullback slot to complement their attack.
After the transfers…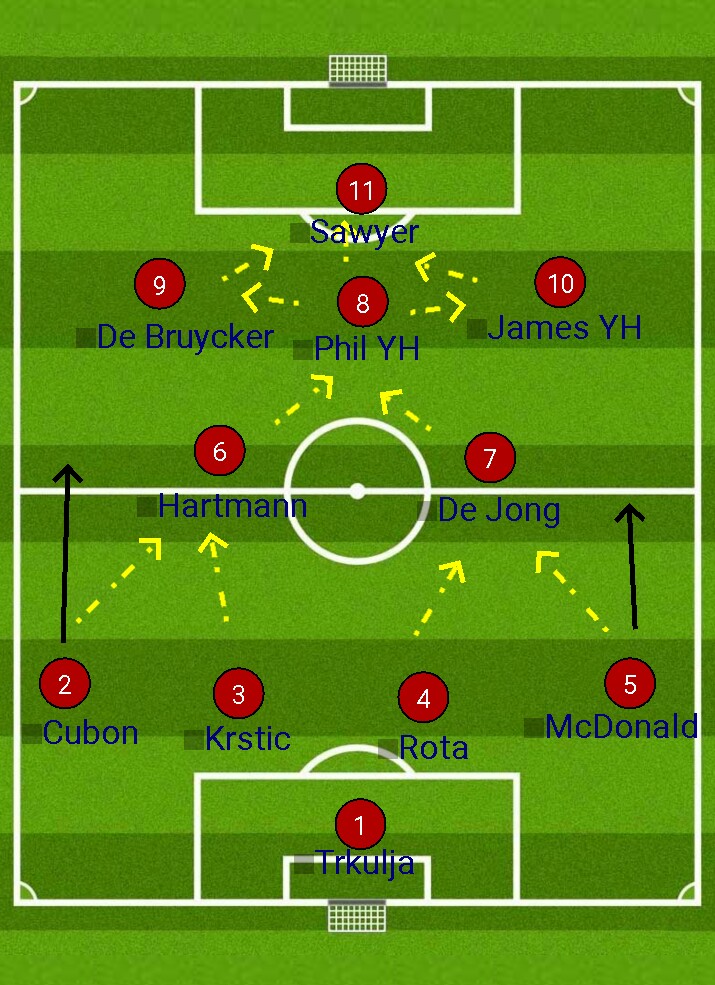 Their last few games showed a shift in tactics for the Aguilas. They aimed for the creativity in possession that Phil Younghusband, James Younghusband, and Matt Hartmann could provide. They also gained a midfield destroyer in Jason de Jong. However, they opted to leave Khan and de Bruycker, along with their speed, to the bench. They also did not address their defensive problems since Simone Rota was a fullback by trade. Lastly, they could not utilize Harry Sawyer's natural advantage in the air with possession football. Hence, they are still winless.
In order to win…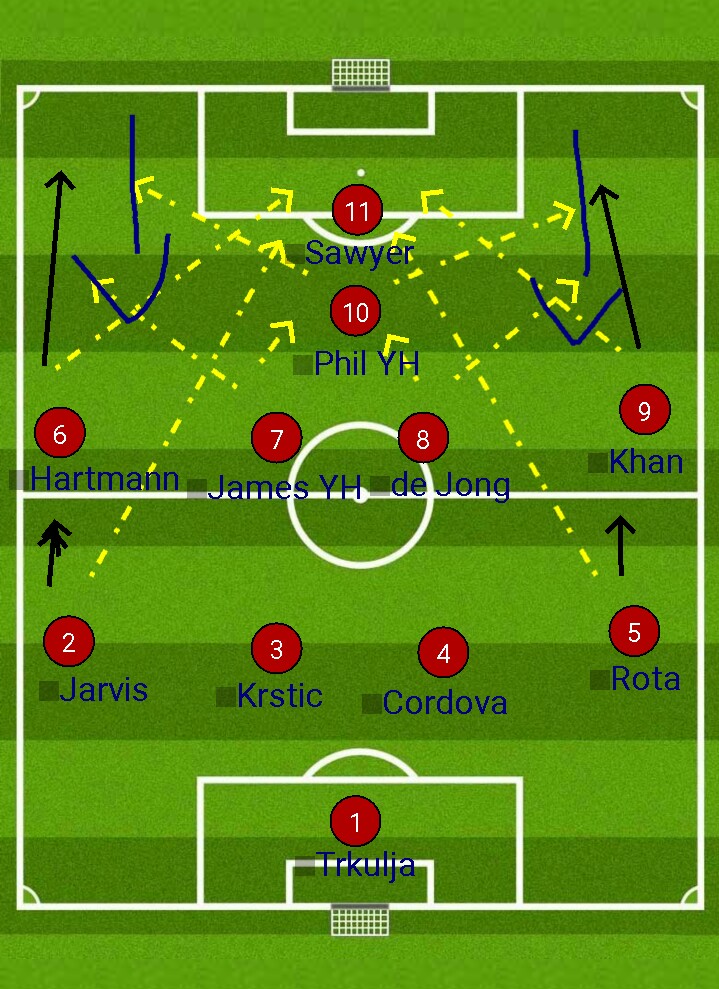 A little pragmatism is needed in Davao. The problem with their spending was that they did not address their defensive issues, while some of the players they bought were playing the same positions. Rota and Mcdonald at Right back and De Bruycker and Phil Younghusband in attacking midfield are examples. It means some of the big names need to be relegated to the bench. To compensate for their lack of defensive strength, they need to defend as a team, which means they need to employ a counter attacking tactic that is complementary to the stars of their first and second incarnations.
In the lineup above, the default is that the team would absorb pressure from the opponent, then unleash a fast counter when they hold the ball. Jarvis and Rota could break and support the attack with their pace and crossing. Omar Khan and Hartmann would create overloads at the wings at pace, or cut inside and support and shoot. De Jong and James could supply deep long balls to the wings or the strikers, enabling the play to shift quickly from defense to offense. De Jong would also act as extra protection to the centre backs on defense when their counter gets countered as well.
The key component here is to setup Sawyer and Phil into a big man-small man forward combo. Phil supplies the creativity to the wings or to Sawyer, while the big Australian poses the primary target of the winger crosses. Dylan De Bruycker could then be utilized as Phil's impact sub that brings in more speed to the lineup. Alexis Cabistante and Richard Talaroc could also do the same for their wingers. Brad Mcdonald and Reymart Cubon could also rotate with the full backs. Lastly, Angel Guirado could also be a supplement to Harry Sawyer if his aerial work would not work in certain games. This scheme would show the depth of the Aguilas in certain positions and would certainly ensure unpredictability in the possible combinations. The football might not be sexy, but it is needed to start winning.
Given that the rumored replacement for Gary Philips is a reputed defensive specialist, a certain SEA Games coach, they would hopefully get one aspect of this proposed tactic right.