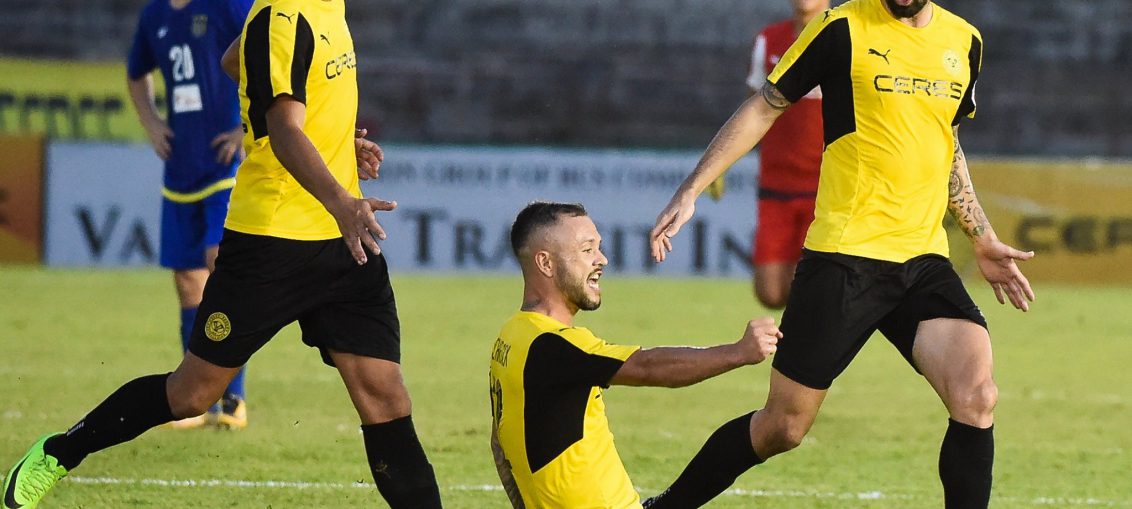 Aguilas fall to Ceres at "home".
In what was a high scoring afternoon, Davao Aguilas hosted Ceres Negros at "home" at the Rizal Memorial Stadium with Davao del Norte Stadium unavailable for the weekend due to scheduled maintenance.
Now that their AFC Cup run has ended, the Busmen shift their focus to the PFL. Goals from Fernando Rodriguez, Bienvenido Maranon and Jeffrey Christiaens powered Ceres over a new look Davao Aguilas side who's missing key player Milos Krstic to injury. Harrison Sawyer added a consolation goal for the Mindanaons during stoppage time.
Asked for comments after the game after extending their winless run to 15 games, head coach Gary Phillips believes that he has the right personnel to play the system he wants effectively. It all comes down to finding the right balance between playing the holdovers and the newcomers with Davao signing no less than 11 players this past transfer window. With Centerback Krstic expected to miss 6-8 weeks due to injury, Davao is expected to replace him with a new foreign player in the coming days.
Poor finishing punished the Aguilas in what was a closer game than the scoreline suggests with Phil Younghusband hitting the crossbar and Harrison Sawyer troubling the Ceres Defense with his physicality and clever movements off the ball.
The Busmen face the Aguilas anew this coming Sept 20 at Panaad park and Stadium in Bacolod.
Meralco fail to extend lead over Global in Cebu.
In what was a scrappy game overall, Meralco Manila were forced to share points with Home team Global Cebu. Tyler Matas of FC Meralco Manila continued his Ironman run playing every minute of the competition for the Sparks 19 games running. The Sparks now stand at 41 points, 6 clear of 2nd placed Kaya with 2 games in hand against them.
Jhan Jhan Melliza continues to make his case.
What better way to get the National Team coaching staff's attention than to keep scoring goals? Melliza scored the lone goal in the game against sliding JPV Marikina to help Stallions Laguna to their 4th straight win and 7th overall of the season. With the goal, Melliza has pushed his tally up to 13 goals becoming the Top local scorer in any ASEAN league this season. The diminutive Melliza has troubled PFL defenders with his pace and great off the ball movements to get himself into good scoring positions. With the absence of Javier Patino due to injury and Misagh Bahadoran's poor form for Global, one has to argue that Melliza at least deserves a look in the coming fixtures for the Azkals.
KAYA continues chase to the top.
Jordan Mintah's 12th goal of the season was enough to overcome Ilocos United. Mintah's latest tally brings him now to just one goal adrift of Jhan Melliza for the PFL Golden Boot. With Kaya's latest win, Kaya overtakes Global Cebu for 2nd place in the standings and 6 points behind current leaders FC Meralco Manila.
-CED SEREDRICA