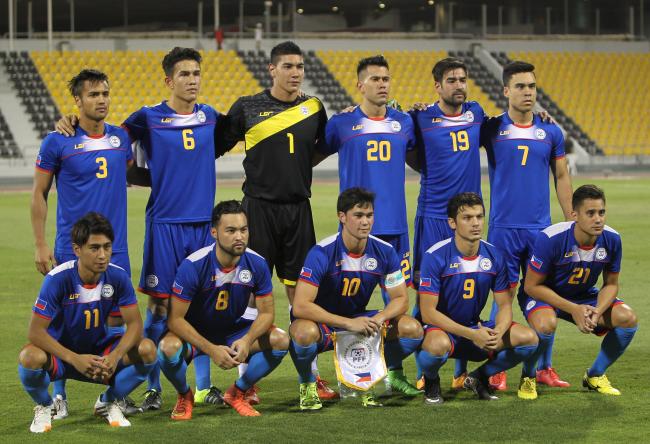 A cold and rainy night in Panaad Park and Stadium in Bacolod City saw the Philippine Azkals draw against a scrappy Yemeni side.
It was a nervy 90 minutes for the Azkals first game back in Panaad. A goal each from the Younghusband brothers ensured the Men's national team came away with a point against Yemen in the Final Round of Asian Cup qualifying.
The Filipinos were showing initiative at the start of the match, controlling the ball at the Yemeni's own half. But an error from the Azkals saw Yemen draw first blood of a corner. Jim Munoz missing a header that Mudir Al Radaei pounced on saw Yemen go up 1-0 at the 28th minute. But the Red Devil's lead wouldn't last long as captain Phil Younghusband scored his 47th international goal from a gorgeous free kick that gave the Yemeni keeper no chance in the 30th minute.
The Yemeni's pace on the counter kept causing problems for returning Azkal Carli de Murga and his partner in defense Dennis Villanueva. Abdulwasea Al Matari scoring from a well executed counter attack in the 56th minute.
Down 2-1, the Azkals started to bare their fangs. Substitute and Davao Aguilas new boy James Younghusband scored off a good free kick delivery from Manny Ott to draw level.
With the draw, the Azkals retain their grasp on top of Group F with 7 points followed by Yemen with 5. Tajikistan is in 3rd with 3 points following their 2-1 win against Nepal earlier with the Nepalese last with a single point to show for.
The Azkal's next game is on October 10 against Yemen to be played in Qatar.
-Ced Seredrica
#LabanAzkals #WeBelieve