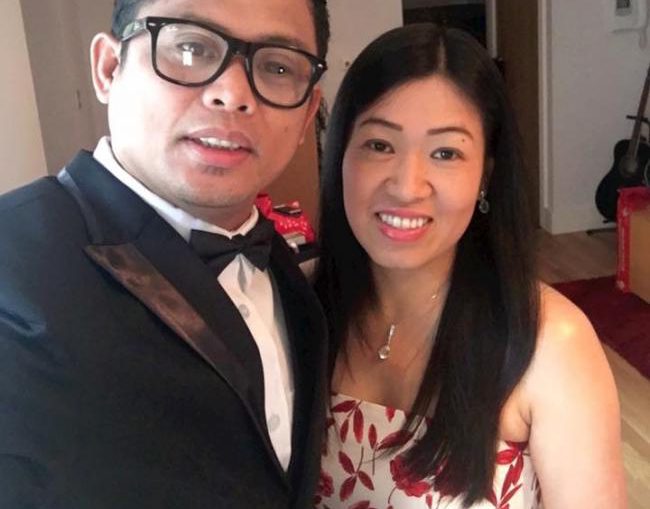 BEST EXAMPLE. Dave Gerali, an orphan who learned to play football at the Don Bosco Boys Home in Cebu is now in UK and married to Maila. They are expecting their first child.
CAGAYAN DE ORO CITY — Football aside from being considered as the most popular sport in the world, it is also one of the biggest or probably the biggest sports industry in the Universe.
Thousands of lives have been changed for the better after taking the sport as a player, coach or trainer.
I have meet three of those young men and I am pretty sure their lives have been changed for the better.
REF CURESMA
He was just a young boy and was barely 16 years old when we recruited him from Silliman University High School team to play for the Southwestern University Varsity team in Cebu during the mid-90's. I was SWU football team manager then while our coach was Glen Ramos.
He was very talented, strong and tall. He played sweeper. However, when we lost our goalkeeper to injury, we were surprised to see him man the goals. He was quick and was very comfortable between the posts.
On his first year he immediately made an impact as a goalkeeper helping SWU win the local school league title. After that, he was recruited by the Philippine Navy where his talent developed to the full.
At age 19, he become part of the Azkals and became the youngest goalkeeper to play for the Philippines in a World Cup qualifier. "Determination, hard work, and discipline allowed me to reach my goal. Football helped me a lot personally and provided food for my family,'' he said.
Now in his 30's Ref continues to play football but this time professionally for the Stallions Football Club. The Stallions are set to join the Philippine Football League which will kick off next year.
He is also now one of the coaches of the Pru-Life UK Football For a Better Life grassroots program of Spears Sports Promotion and Management.
AGIEL JOHN 'KANO' ROJO
One of the fast rising star among the younger breed of footballers, Agiel John 'Kano' Rojo of Coronadal, South Cotabato has only one dream. That is to compete in the World Cup someday for the Philippines.
He was a member of the "Little Azkals'' team which spent a month to train in Loughborough, England in 2013. He was barely 11-years-old then and one of the youngest. However he was one of the fiercest player on the pitch.
His do-or-die spirit has impressed his coaches and he has even been tagged as one of the up and coming stars of Philippine football.
"My parents have inspired me to have courage, determination and perseverance to follow my dreams," he said.
The UK trip was only the start of his young football career. Some clubs in Manila have already signed him up to strengthen their teams when they play abroad during summer vacations.
Kano is only 13 years old now and still keeps himself busy playing the game that he loves most. At a young age his football future is now assured as some Manila teams and schools have been courting him to join them. Football has indeed changed his life and made his future looks brighter.
DAVID GERALI
I have known this guy since he was a young orphaned boy at the Don Bosco Boys Home in Banilad, Cebu city (Now in Lilo-an, Cebu). He played defender for the DBBH-Salazar Institute of Technology team which was supposed to play for the National Coke Go-For-Goal Championship hosted by the Cebu Football Association (CFA) in 1997.
The CFA then hosted that tournament without a Cebu team after DBBH-SIT withdrew to protest the inclusion of a team which fielded an overaged player during the Visayas Elimination.
Dave is the perfect example of person whose life was changed because of football. After finishing his high school with DBBH-SIT he got a football scholarship with Southwestern University where he finished BS Education. After college he then got a teaching job at the Don Bosco Technology College.
He was also a coach at DBTC and even continued playing. He even played for the Cebu Queen City United-Landmasters in the United Football League Second Division. He also gained his coaching badges and concentrated on goalkeeping.
His sacrifices paid off when he became the goalkeeping coach of the "Little Azkals'' which trained in England in 2013.
In England he was introduced to the wife of their team photographer Dindo Fortono, Aileen.
Aileen then introduced Dave to her friend Maila Manansala. Dave and Maila then fell in love and got married months later.
Last year, Dave migrated to the UK and now they are living in the UK territory Jersey one of the Channel islands near France. Dave now works as a coach of a local football club and at the same time a fitness instructor. They are now expecting their first child.