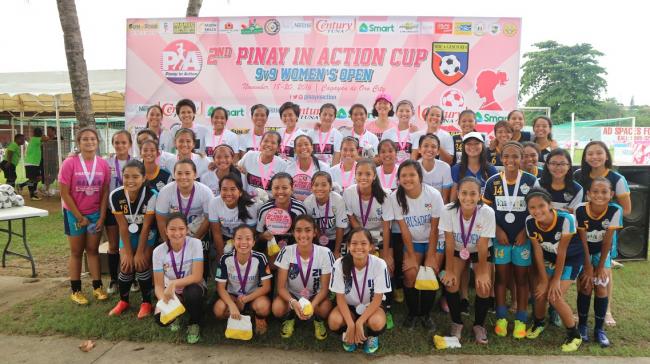 PIA CUP CHAMPIONSHIP. Members of the Champion team University of the Philippines, second placer Xavier University and third placer Higala FC posed with Taguig Representative Pia Cayetano (back row with pink cap) during the awarding of the 2nd PIA Cup Football tournament at the Westridge Sports Park in Brgy. Carmen Cagayan de Oro City. (Photo by Jack Biantan)
BY Jack Biantan
CAGAYAN DE ORO CITY — Local girls Xavier University for second year in a row failed to win the PIA Cup football title as they bowed to the much superior University of the Philippine Women's Team, 3-0, in the championship match of second edition of the tournament at the Westridge Sports Park in brgy. Carmen.
There was no sweet revenge for the Lady Crusaders as they failed to avenge their penalty shootout loss to the UP Ladies in the semis last year.
This time with an undermanned team which was reinforced by players from the Xavier University High School Futsal team, the Lady Crusaders of coach Lanz Turrecha were no match but put up a good fight at the start.
They held the Big City girls for 14 minutes without a goal but UP team captain Christine de Los Reyes had other plans as she unleashed a stunning long shot from the center to break the ice in the 15th minute giving UPWT a one goal lead at the half of this 9-A-Side competition.
The Lady Crusaders continued to hold on at the start of the second half but their reliable defender and team captain April Borja was caught handling the ball inside the penalty box.
Striker Maxine Sebastian then coolly booted in their second goal from the spot to give UPWT a 2-0 lead.
Sebastian then cemented their win in the 32nd minute with another goal that caught XU goalkeeper Rhodnie Sugano flatfooted.
XU could have scored a consolation goal late in the second half after striker Desiree Mae Castro was brought down by a UP defender inside the penalty box with few second remaining.
Castro however blasted the football above the crossbar breaking the hearts of her team mates and a few XU fans.
The youth Higala FC girls broke the hearts of JRFC when they captured the third place trophy via a penalty shootout 4-3 after a 2-2 draw in the regulation.
Higala FC took the lead early with a goal from Xyra Bugahod in the 2nd minute. JRFC however equalized when Kimberly Alia scored in the 6th minute.
Alia then scored in the 22nd to put JRFC ahead but Patricia Ching equalized to extend the match to a penalty shootout.
Ching scored one for Higala FC in the shootout while Rain Vandenhark calmly scored the winning goal of the match.
Only Cherith Magaranas scored among the five kickers of JRFC during the shootout.
April Grace Borja scored two goals for Xavier University in the semis, one from a spot kick and another one from an indirect free kick outside the penalty box to beat Higala FC, 2-1.
Melgrace Camarilla scored the consolation goal for Higala FC in the 20th minute. Mary Rose Obra scored twice in the 13th and 17th minutes while Maxine Sebastian hit the back of the net in the 33rd minute to beat JRFC and advance to the final against XU.
SPECIAL AWARDS:
Fair Play Award-University of Science and Technology Philippines
Best Goalkeeper-Vannesa May Estrada (UPWT)
Most Promising Players-Christina De Los Reyes (UPWT)
Best Striker-Patricia Ching (Higala FC)
Best Defender-Marian Ruiz (UPWT)