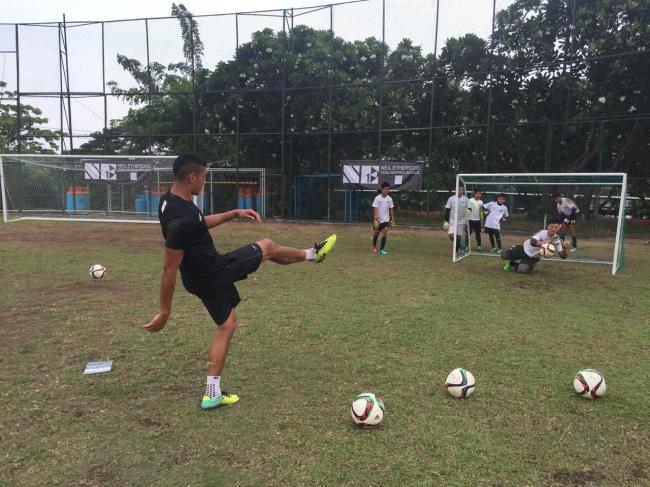 Now on its second year, the Neil Etheridge School of Goalkeeping is a one of a kind football school where students can expect to learn different aspects of goalkeeping, straight from Neil himself.
"I want to give back as much as I can, because really I've been the national team goalkeeper now since 2008. It's been a long time", says Etheridge on his motivations for starting the school.
Etheridge has had the opportunity to work with the likes of Fulham's Mark Schwarzer and FIFA World Cup finalist Martin Stekelenburg, and he is keen to impart to his students what he's learned over the course of his young career.
"I don't believe that there's a goalkeeping school that offers what I have to offer, with experience as much as I have in a goalkeeping sense."
In the NE1 Goalkeeping School, students will learn not just the art of stopping shots, but also kicking and the executing different saves – from the low ones and the high ones, as well as cross taking, positioning and angled shots.
"There are so many things the goalkeeper has to do, and he has to be an outfield player as well as a goalie. You're asked to do so much" said Neil.
Although the school demands hard work from students, Etheridge stresses the need for enjoyment, for kids to take pleasure playing football.
"The main thing is to enjoy it. They can expect enjoyment, it will definitely be fun." Etheridge himself will conduct the Goalkeeping School, where students can expect to be given a personal relationship with each and every student with Neil himself.
"Students can expect to be worked hard, but it's gonna be fun and they've gone out after the course with new confidence. They've come out and become a better person, and I believe they've come out to become a better goalkeeper."
The Neil Etheridge Goalkeeping School will run from June 9-22, 2016 at the Manila Polo Club. For more information, please email contact@NE1gk.com or call +639179773111.