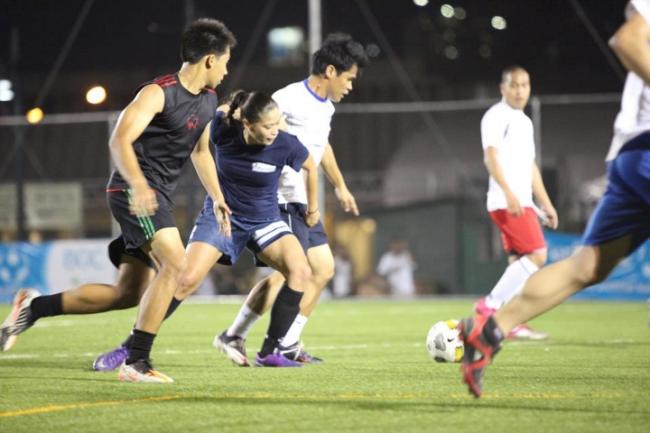 MANILA, Philippines — For those of you who don't know me, I'd like to take this time to formally introduce myself. My name is Ashley Marie Larrazabal O'Connor. I am the newest member of the Malditas as well as the new Women's Administrator of the Philippine Football Federation (PFF) .
Although my name screams American, I was born and bred a Filipino. I was born in Iligan and grew up in the United States. I never silenced my desire to return to my homeland and represent the motherland by playing for the Women's National Team.
Many can argue that maybe I'm not a true Filipino but I can assure you through my physical appearance, my Filipino mother, and my dedication and willingness to sacrifice, I am very much a Filipino at heart.
Many people thought I was crazy for leaving my family, my friends , my job, not to mention my American salary, to come here. But what they didn't understand is a sense of nationalism that is deeply rooted in my Filipino soul.
I arrived last December for a family vacation. I then seized the opportunity to live out my dream. I got in contact with the Women's National team coach Ernie Nierras and within a week I was in Manila trying out for the Malditas.
Football has always been a huge part of my life; playing for multiple teams since the age of seven and continuing on to a Division 1 School (Long Island University) on a football scholarship.
Playing for the Philippine Women's National team was just the missing puzzle. I am honored to be accepted as one of the Malditas and to be a part in Philippine women's football.
This year brings in many changes. We are entering a monumental moment in women's football in the Philippines. Through our team and through the PFF we are working to broaden the horizons for women's opportunities in the game.
We are working hard to no longer be just an after thought but a major contender. This is a movement that I believe to be unstoppable, limitless even.
With our supporters and the sweaty faces you see everyday on the field; we are helping to build awareness for women in the sport. Our goals are not just centered on our personal success but the growth of women's football as a whole, a trait I sincerely admire in my teammates, coaches and everyone behind the scenes.
We are at the forefront of this movement and are honored to be. What we are doing now will resonate in women's football even after we are done. We will leave our mark, and a memorable one at that.
Playing with the Malditas has shown me what true sacrifice and perseverance really is. Many of my teammates and me start our days early in the morning and end late at night, juggling a job/school and practice.
Most shoulder the costs from traveling to and from practice. We wake up aching and exhausted but do it all over again. Some people ask "How do you do it?" It is just a simple answer; we do it for the love of the game and country. We don't complain, we don't look for fame or admiration, we just do.
And despite the put downs and obstacles we face, we still continue on, truly believing we will one day be a major presence not only in Asian Football, but in the world as well. We are selflessly working hard to make the impossible, possible.
To be part of this team, this family, is an indescribable feeling, something truthfully unmatched. I could be anywhere doing anything, but I choose to be here. I choose to be a part of my motherland, to represent her as a modern day warrior for women (as I like to see it).
Everyday I look at the tired, worn out, fatigued and weary faces around me but only see one thing, an unwavering spirit and passion. When I think I can't do it, my teammates inspire me to do more, to be more. I am proud to "battle and bleed" with my sisters and to be a major part in the growth of women's football in the Philippines.